Italian furniture brand Kristalia will present at this year's Salone del Mobile its latest products, the 1085 Edition chair designed by Monza-based studio Bartoli Design. At a time in history when most of the industrial design world is following trends in anti-aging cosmetics and is trying to counteract even the healthy signs of aging, time is a precious resource, in a double sense, for the chair by Bartoli Design. Because it involves not only the use of a material – natural hide obtained by respecting all its characteristic properties – but also a process, used by Presot, a company which, since 1933, has been producing soles for leading Italian designer labels based on a centuries-old tradition. In its 80 years of history, the company has successfully adapted to new standards of technology, strongly and wholehear- tedly retaining its authenticity. And because the project that lies behind this chair is powerful enough to challenge time: the hide will inevitably move, its texture will change and also its colour, but the chair will be the expression of this transition, preserving its functionality and performance over time.
For this project, Bartoli Design gladly drew upon Presot's experience in haute couture (the visible stitching is an explicit reference to that world) and upon the nautical sector, with its tie-rod device. This ensures that the tension, which would naturally be lost over the years and with the softening of the hide, remains strong.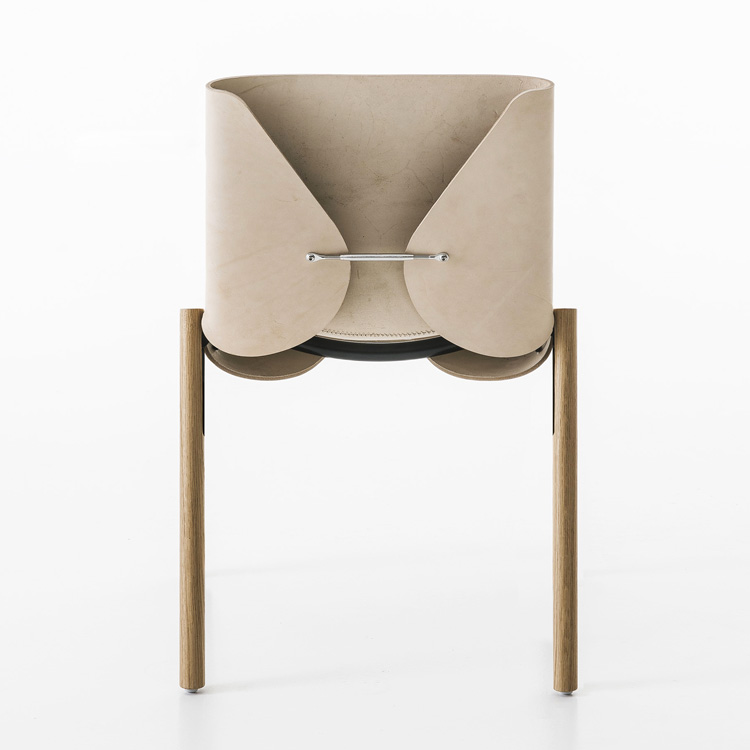 With great timing, the project arrives at a moment when the issues of traditional craftsmanship, Italian manufacturing and eco-friendly production are central to the concerns of those who make, produce and communicate design in Italy. But slogans aside, it tells a spontaneous story that is typically Italian, which has an almost casual origin, yet is rare in its authenticity and happy outcome: the successful encounter between the exploration of a company, the talent of a designer and the expertise of a producer.
all images courtesy of KRISTALIA | H/t dezeen