15 years since the launch of the original Aero Eight, Morgan unveils the 2015 Aero 8. Significant visual and mechanical changes make the 5th generation of this iconic model the most refined Morgan Aero product to date. Styling of the new Aero 8 was influenced by classic open cars from the 1960s, reflecting a trend of long, fast and low shoulder lines and cabin focused body work. From above, the view echoes that of a boat deck, enhancing the sense of adventure and escapism.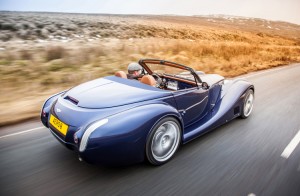 A dramatic rear opening clam shell boot is used to both tension and hide the new double-lined mohair hood. Occupants are seated low in the vehicle, which in turn enables a sleek roof line and balanced vehicle proportions. The Aero 8 is available with an optional hardtop that transforms the car into a coupé with ease.
Passenger experience has been at the forefront of the design process. New dashboard arrangements, real wood surrounds, textured box-woven carpets and fine leather trim enhance the new interior. The introduction of a new air conditioning system ensures that the car is more usable in warmer climates, a reflection of Morgan's expansion into new markets across the globe. Optional touch screen media systems, low slung carbon seats and bespoke detailing packs add to Morgan's already extensive options list.
The 2015 Morgan Aero 8 debuted at this year's Geneva International Motor Show will enter production in the fourth quarter of 2015 with limited production numbers available.
all images courtesy of MORGAN