The leafy Provençal town of Saint-Rémy-de-Provence is synonymous with Van Gogh, who found inspiration in its light (it receives over 300 days of sunshine per year) and surrounding landscapes. Still a favorite with artists, this once-sleepy place has become quite cosmopolitan with its world-class restaurants and design shops. Emblematic of this historic-meets-modern wave is Hotel de Tourrel. Set in a 17th-century palais in the center of the old village, the hotel and its seven spacious suites are a mid-century design odyssey.
The noble Almeran family's former home, original features have been charmingly mixed in the interiors with furniture by ClassiCon designers Eileen Gray and Konstantin Grcic. The ancient building is also home to an innovative nouveau Mediterranean restaurant and private dining space led by Benoit Fauci, who ran the kitchen of the Michelin-star restaurant Les Chênes Verts, in Tourtour. With pristine natural surroundings and an address close to to 34 wine appellations and important historical sites, such as the ancient royal city Les-Baux-de-Provence and Avignon, Hotel de Tourrel adds a new layer of luxury to the heart of an already refined and stunning Saint-Rémy.
Architect, Margot Stängle, who is also one of Hotel de Tourrel's owners, had the pleasurably complex task of converting the 17th-century manor into the all-suites property it now is. The decision to transform the 24 original rooms into seven spacious suites was key for Stängle and fellow owner Ralph Hüsgen, allowing them to create a new level of luxury in the picturesque town.
The pair spent extensive time researching historic techniques to restore the original manor. After having accidentally discovered stucco under peels of paint, they hired a professional team of conservators who took 13 weeks to uncover it.
Cleverly segregated from the elegant restaurant by a floor-to-ceiling wine rack, the exclusive wine boutique and bar specializes in rare wines and vintage varietals. Here, amid a long communal wooden table and simple seating, wine lovers can sample not just regional French wines but also premium offerings from Spain, Italy, and Germany.
In the restaurant, carefully designed furniture showcases the owners' masterful touch when it comes to mid-century transformations. A combination of details, such as the choice of colors, shapes, materials, and accessories, set the right stage for the latest culinary hero in town.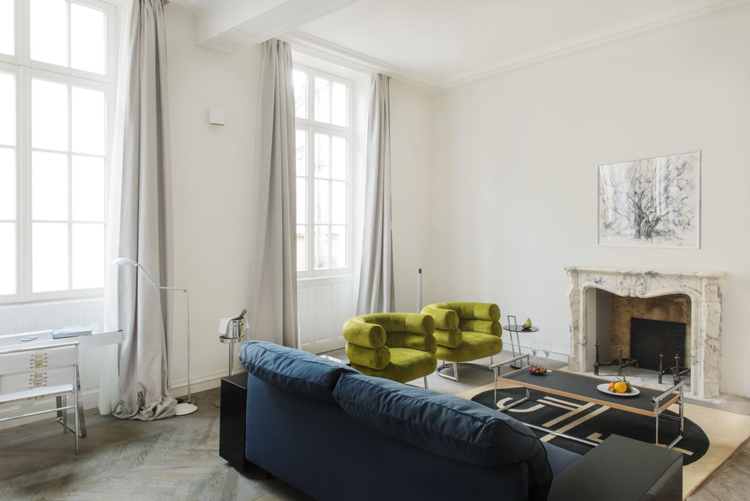 In a fairytale story replete with a 17th-century noble manor, a charming historic town, and the pursuit of pure passion, Margot Stängle and Ralph Hüsgen are "living the dream." A common passion for architecture and design not only brought them together on a four-week, 5,000-kilometer tour of France in 2009, but eventually led the duo to open this petite luxury hotel in Saint-Rémy. An architect (Stängle) and a communications and marketing expert (Hüsgen), the pair has decided to live and breathe design, food and wine. The result is a new gourmet luxury destination in France's cultural firmament.
all images courtesy of Hotel de Tourrel