Japanese studio Schemata Architects has recently transformed an old and run-down building located on a little shopping street in Tokyo into a small rice shop. The street used to prosper with an array of small individual shops, but it has declined substantially and many shops had been closed down. As a consequence, the street has become a so-called "shutter street", which is on the verge of disappearance. A local team, OWAN, who operates a rostery/coffee shop and a café on the street, is striving to reactivate the shopping street.
They wanted to open a rice shop, and Schemata Architects was commissioned to renovate a wooden building of a former vegetable shop. The building has the typical layout where the shop space faces the street and the residence of the owner is located in the back.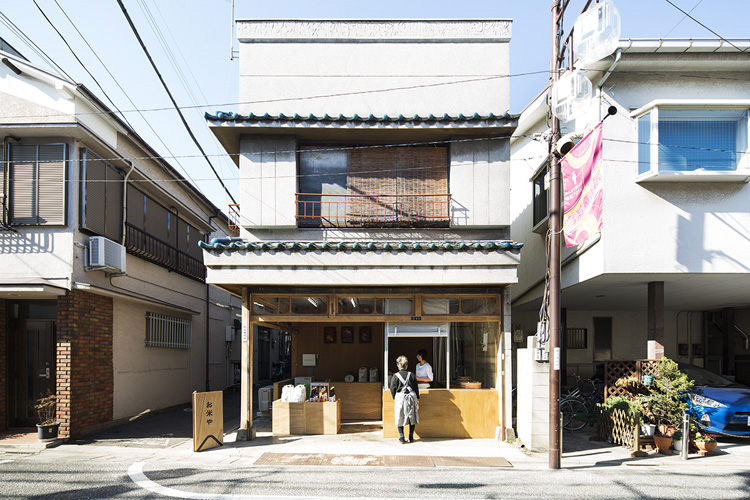 The shop space is narrow with approximately 16.6 m2 in floor area. However, the client's intention was to keep the shop at a modest size so that they can maintain one-staff operation. Mutually supporting relationship with the neighboring shops is the key to sustaining this small shop. When the staff has to leave the rice shop briefly, the neighboring shops can keep an eye on the shop. Such "small help" between shops is crucial in maintaining small-sized businesses on local shopping streets; the shopping street and the shops can mutually support each other to sustain their prosperity.
The building was very old and run-down, but Schemata Architects decided to regenerate the old building entirely, as well as the shop space. First they sanded the existing structure such as columns and then sanded the existing wood surface, till it matched the color of new lauan plywood used for furnishings. As a result the overall space looks refreshed, and the old and new parts are almost undistinguishable.
all images © KENTA HASEGAWA
Comments
comments