Located in the beautiful landscape, in front of the Mediterranean Sea, between El Portixol and Cala Blanca, the Sardinera House by Valencia-based practice Ramón Esteve Estudio stands out on the top of a hillside, flanked by a headland entering the sea on a bay of turquoise waters.
"The original idea for the design was based on enjoying and enhancing the panoramic views of the setting, by creating a relaxing contemplative environment that allows enjoying the experience provided by the place" explain the architects.
There is an access through a double-height volume with side walls aiming the view at the sea and offering the visitor a first contact with the horizon. The day rooms are on the ground floor, as part of a fluid set articulated by the white concrete walls. Some vegetation is introduced in the in-between spaces, moving the garden into the house. Each room opens towards the horizon through its own veranda. The living room has a main role and a singular feature, a glass corner framing the best views of the sea.
Each volume on the first floor hosts a bedroom. Instead of allowing frontal views framed by the walls, the glass corners offer much more interesting panoramic views. Each room has a small glass balcony, similar to a bay window, set back of the boundary of the cantilever, so to enhance the visual importance of the horizontal surfaces.
The staircase has been developed as a sculptural element. The sea is visible through its translucent glass steps. This transparency also allows the natural light to arrive to the basement. At night, the steps light up as a lamp.
On the basement floor, besides service and parking areas, there are some guest bedrooms, a gym and an indoor pool, with a sauna and a dressing room. The outdoor space has been designed as an extension of the indoor space.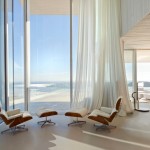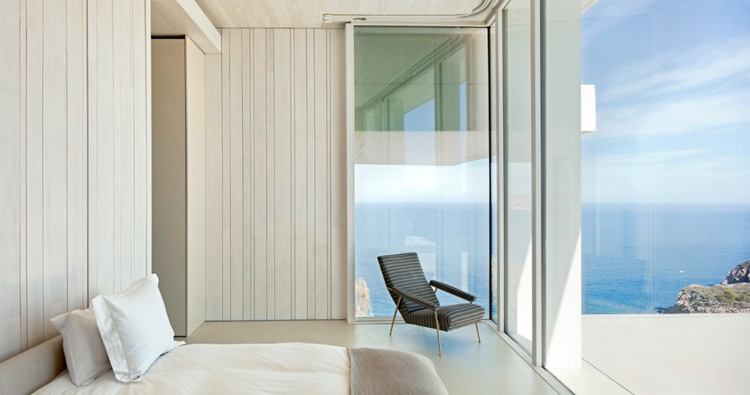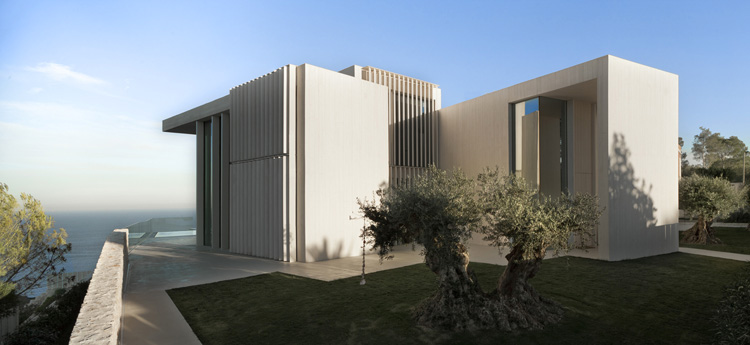 all images © MARIELA APOLLONIO – courtesy RAMÓN ESTEVE ESTUDIO
Comments
comments