Located in a former artist's loft on McGill St. in Montréal, Ikanos by local architecture and design studio Blazys Gérard is a Mediterranean-inspired restaurant, run by the team behind the former St-Denis St. eatery, Tasso. The concept is based on a reinterpretation of the characteristic architecture of Greece and neighbouring countries. The goal was to develop an architectural language that would meet the client's requirements while remaining consistent with the theme, without becoming a mere pastiche or stage set. Alexandre Blazys and Benoit Gérard approached the problem from a fresh, modern angle.
The bar sets the tone with a blackened steel arch, antique mirrors and deep blue barstools. By installing a constellation of smoked globe lights of varying sizes, the designers sought to echo the Mediterranean sky. 
Wood and leather banquettes structure the restaurant's space and different zones. They help maximize the restaurant's capacity while giving guests fine views of Old Montreal. The wood and seagrass chairs are accented with sheepskin, giving the space a playful feminine touch.
Meanwhile, the designers approached the ceiling as an infinite pergola made of suspended wood planks. Spaced at regular intervals, the planks generate an interesting interplay of shadow and light on the brick and straw paper walls. Lights and service conduits are concealed above the planks, giving the space a warm, intimate character and a more human scale. Lighting at the base of the partitions is concealed inside steel mouldings, creating a visual horizon for guests.
Other elements expand on the Mediterranean theme, such as the use of stucco on certain walls and the inclusion of raw steel posts, or black and grey slate on steps and landings, giving the space an intentional patina. Also worth mentioning are the openwork partitions in thin, braided metal harking back to the triumphal aesthetic of a bygone Greece.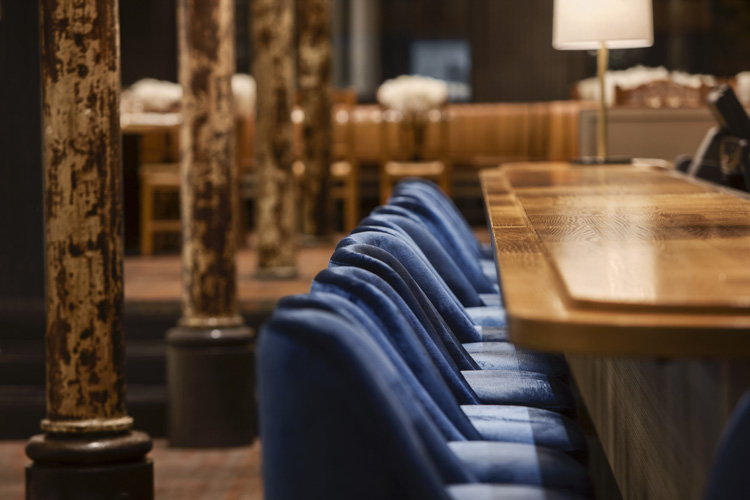 all images © JEAN LONGPRÉ
Comments
comments