The new Factory 5 shop occupies a double height space in a former local wet market in the north of Shanghai's Jing'an District. Linehouse design, who leaded the refurbishment project, has recovered the existing grey brick and concrete walls which were retained as a rough canvas for the shop. A mezzanine lined with blackboard painted MDF was inserted to accommodate office space for 10 people.
The first floor retail and workshop space focused on retaining a cycle hub feel with the creation of a bar serving coffee and beer and a communal table that wraps around to become the workshop counter and cashier. The design of the mezzanine and the bar used 150 by 150mm I-beams fixed horizontally between the existing metal columns. The raw concrete floor of the market was overlaid with a clear epoxy and concrete walls fold up to become the walls of the counters.
Feature retail display walls was arranged to highlight Factory 5's signature bicycle frames, Mission Workshop bags and clothing, and component and product displays. Material sourcing was as local and salvaged as possible: reclaimed wood from Shanghai's demolition sites was used for the table tops and the cabinetry, gas pipe installations and salvaged army trunks form the shelving and racks for clothes and bags. A small garden space was planted with bamboo and lined with a long bench.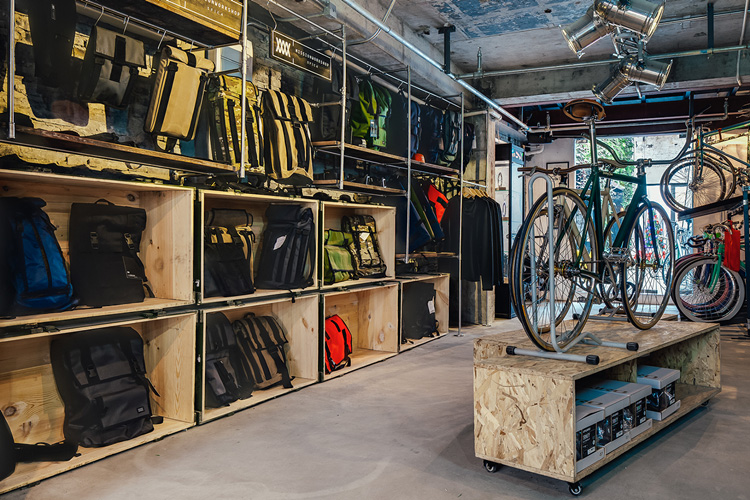 all images © BENOIT FLORENCON
Comments
comments