Perched on the precipice of Sunset Plaza Drive, Interior Designer Dominic Gasparoly and Architect Khalid Watson of the New York/Los Angeles- based studio GWdesign have recently completed this four-storey house in the West Hollywood quarter of Los Angeles.
With a breathtaking Pacific Ocean view that spans from Downtown Los Angeles to Santa Monica, this jewel is a space for entertainment. The 5,600+ sq/ ft contemporary residence is outfitted with lavish finishes for an European flare.
The architects tryied to proving the old idiom that less is always more. The angular facade is discreet, chic and confident, without being at all garish or pushing pretension.
Driving up the hill, the angular wall with it's overhang greets the passersby, while the straight wall welcomes visitors to enter into its main foyer. Passing through it's threshold is to be transported from earth and into the clouds. The minimalist design is warmed up with a rich mix of materials and textures.
They offer a serene exhilaration which serves to foster an awe inspiring vista through the frame-less floor to ceiling windows. White washed, oak wood floors combined with white stone are an unabashedly modern touch, but not harsh to the senses.
The Kitchen is dominated by it's large center island all along the panoramic window, and faces built-in cabinetry in a sensual dark stained oak.
Lit by a wall washer skylight, the stair with it's in-wall handrail invites you to the second (lower) level. The double height Living room allows for an unobstructed view of the Pacific Ocean.
And the over scaled bookshelf is a tribute to intellectual elegance with its scrupulous display of books and art pieces. The strongly contrasting fire-place and TV-unit host all the high-end technology of the home, behind a black waxed steel frame.
The Master Suite – with it's his and her walk-in closets, are rendered with a beauty to enhance the opulence of the en suite. Here in the master bath, again, all is about the view which reflects in the large mirror of the sleekly designed vanity. With it's freestanding bath tub the open concept creates a seamless continuity from the indoor to the outdoor terrace. A small covered exterior lounge was designed to spend a tranquil afternoon in its deep, comfortable banquette.
Whether you're in the mood for a work-out in the gym, a spa day in the steam shower, sauna, and pool, or if you just want to veg-out in the professional home theater with a long movie.
Residing in this home is to be reinvigorated. It is at once a home for entertaining and a home for Living. The back of the house with it's thin pool deck seems to defy the hill side. Like a large ship, the white overhung structure could be an homage to Le Corbusier.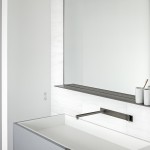 all images © Dana Meilijson
Comments
comments