Designed by local design studio MONTAAG in collaboration with MAVERICK CONCEPTS, Bit Union, now open in Entra's new office building on Akersgata, is an expansion on BIT, the fast-casual restaurant concept that has served salads, baguettes and pastries to hungry Osloers since 1998. 
The marquee moments in Bit Union Akersgata culminate around the organic sweep of the floating Corian service counter. Clean lines form from brass, glass and wood finishes, neatly showcasing cafe offerings. Bit Union incorporates familiar objects, patterns and materials, but in new ways: here the age-old delivery fruit crate has been repurposed as an eclectic shelving system, providing strategic storage via an "organized mess".  Overhead, the undulating, three-dimensional, oak drop-ceiling introduces an element of the psychedelic into cafe proceedings.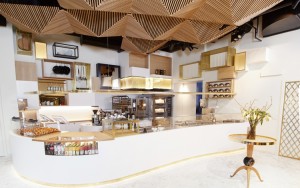 Warmly-lit exterior globes beckon passerby with a hint and promise of the unique and manicured cafe experience within. Fashioned of marble with brass trim, the cool and clean street-facing bar finds a warm counterbalance in its contoured oak stools. A seemingly open seating area is slyly intimate thank to subtly divided upholstered leather banquettes.
Seating section are paired with adjustable tables, each distinct from the next-alternately fabricated from wood, marble and brass.
Occupying the middle space is a subtly whimsical greeting table made with oak, brass and marble that is a modern spin on the Gustavian classic. This table celebrates the "Union Made" cooperative spirit behind the cafe's concept, design and craftsmanship through embossed hallmarks representing all contributors.
Bit Union is located at Akersgata 36, 0158 Oslo.
all images © Paul Paiewonsky
Comments
comments