Commissioned by a young couple to design a residence on a difficult plot on a hill with an inclination of 42 degrees, GilBartolomé Architects conceived 'House on the Cliff', a unique two-storey dwelling pierced into the cliff overlooking the Mediterranean in Granada, Spain.
The form of the house and the metallic roof produces a calculated aesthetic ambiguity between the natural and the artificial, between the skin of a dragon set in the ground, when seen from below, and the waves of the sea, when seen from above.
The roof form creates a cavernous interior inspired by the work of Spanish architect Gaudí, and described by the architects as a "Gaudiesque contemporary cave".
The house is developed on two floors: a large terraced living area, following the slope of the mountain, connected to a cantilevered terrace with a swimming pool, and a second floor with rooms that have viewpoints above the roof. The house is buried into the steep slope and benefits from the annually constant temperature of 19´5ºC of the ground.
The livable spaces are covered by a curved double shell of reinforced concrete which plays with the geometry of the ground while framing the views and orienting the airflows that come from the sea into the interior. This shell is supported on the retaining walls that are 14,5 meters apart from each other, with no other internal supports, columns or walls. Thanks to this, the main space of the house, organized into designed islands of activity, can also become a stage and an auditorium for 70 people, also handy to host large parties, completely open to the landscape and with an ancillary terrace separated by a movable glass facade.
The House on the Cliff has been constructed in 2015 during Spain's financial crisis and high unemployment levels, the decision was made to use labour-intensive techniques and local workers to help boost the economy.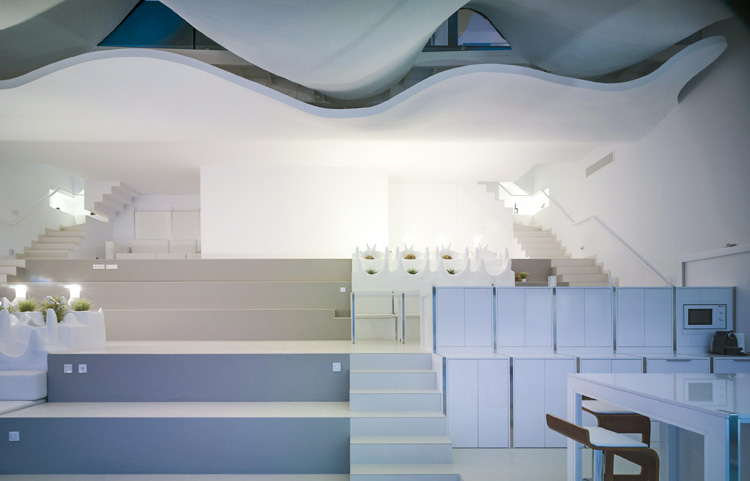 all  images and video © Jesus Granada
Comments
comments