Floor-to-ceiling windows place sweeping views of the sea at the centre of the elongated 4,200 sqft space while other design highlights include undulating azure walls, hand-blown ceiling lights by Lasvit, and intricate sea fan-inspired rattan seat dining chairs. This is The Ocean, a new striking restaurant recently completed by local firm Substance architecture in Repulse Bay, Hong Kong, China.
The restaurant's interior invites you through a pool of dark blues and cyan, balanced with sandy brown finishes throughout. Diving into the deep through the portal frames flourished with silver leafs, one's first impression of The Ocean can only be described as a perfect blend between the magic of a deep sea dive and a moonlit beach.
The twostorey restaurant and bar is created specifically for a romantic traveller on the hunt an aquatic escape. The menu is linedup with an exquisite selection of seafood, while a sushibar offers up freshly caught sashimi and rolls. It is a place for the modernday sun worshipper, as well as the diner looking to get lost in a sea of perfectly curated culinary opulence.
There is an emphasis on intimacy, as The Ocean houses three private dining rooms for an added lap of luxury. Magic is added with a backdrop of the ocean itself, while the walls of a jellyfish aquarium surrounding each private dining room, submerging each visitor into a pool of conversation as they observe the mystique of nature around them.
But the devil truly is in the details, with tableware and furnishings taking design cues from coral leafs, anemone spirals and fibonacci suites in shells – each delicately designed to reflect the undersea organic geometry lives.
Seated upon furnishings that encompass visitors like a hammock slung calmly between two palm trees, ocean carries visitors through from the early afternoon to the romantic hue of the sunset, offering a momentary tropical oasis in a city that does not sleep.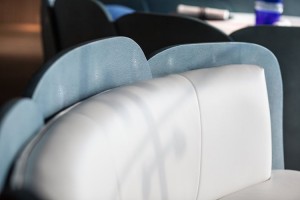 all images © Dennis Lo
Comments
comments