Architect Luciano Kruk and his girlfriend Ekaterina Künzel designed themselves this concrete holiday house, set in the beautiful landscape on the Argentinian coastline. Named Casa L4, the 183 sqm house is located in Costa Esmeralda, a picturesque stretch of coastline set 250 miles south of Buenos Aires.
Given the number of projects built in the same area, the design stems from a history of experience that led to the use of exposed concrete which maintains its structural and aesthetic with minimal maintenance.
The front and rear of the concrete building are enclosed by glazed walls that frame views of the trees and dune landscape, while its sides are blinkered by flaps of board-marked concrete that overhang the glazing to provide shade and privacy.
Aiming at producing some contrast for the senses, to enter the house one must go from a gloomy semi covered space, through a narrow staircase enclosed by blind exposed concrete walls and, finally, into an open bright area: the main floor. Regarding the main floor's design, in order to give every room as much privacy as possible, each one was located in a corner of this quadrangular floorplan. The central hall would house the social activities. Helping to organize this area, a stairway going up to the rooftop lies at the heart of the floorplan and gives order to the space as it separates the kitchen and dining area on one side, and the living room on the other.
With regards to the house's illumination and given the floorplan's depth, it was decided that the natural lighting would be reinforced from the rooftop. The crystal box containing the stairs bathes the social area's center in sunlight. Linear cracks were incorporated into the inner partitions that limit the kitchen-dining sector in search of different natural light effects throughout the day on their surface. Also, the bathrooms were illuminated by means of skylights placed over the showers.
Embraced by the pines' canopies, a peaceful contemplation space unfolds on the rooftop. Due to the transparency of the box containing the stairs, views in all directions can be experienced. Covered by a wooden deck and furnished by a shower area and two adjacent swimming pools, this viewing space is enriched by the sight of the sea.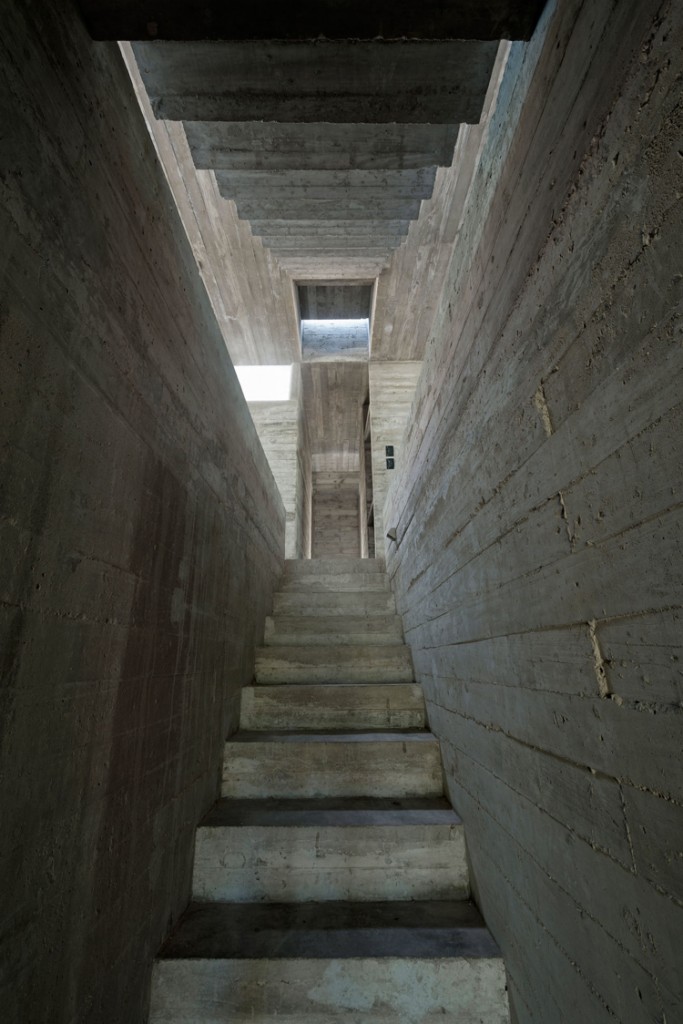 all images © Daniela Mac Adden
Comments
comments