Designed as a weekend home for a family of six, the Compass House by Toronto-based architecture firm Superkül takes its name from the clients' desire to chart a new course as they transition from an extended stay in the United Kingdom to life back in Canada.
To achieve this, the design of the home transcends ordinary domestic programming, creating a place of spiritual resonance that orients and heightens one's experience of the surrounding environment. Through its siting, massing, tectonics and materiality, it balances intimacy and expansiveness, light and dark, land and sky.
Located on the Niagara Escarpment, Compass House's siting instrumentally establishes orientation. The house sits at the nexus of the land's constituent characteristics: forests to the west, a hill to the south, and 100 acres of fields to the north and east. Set back from the road, it is surrounded by a thicket of trees to provide windbreak and a sense of enclosure. On approach from the existing farm lane, the white exterior helps register the seasons, distinct amidst the green fields of summer, and melding into a winter landscape of waning light and snow.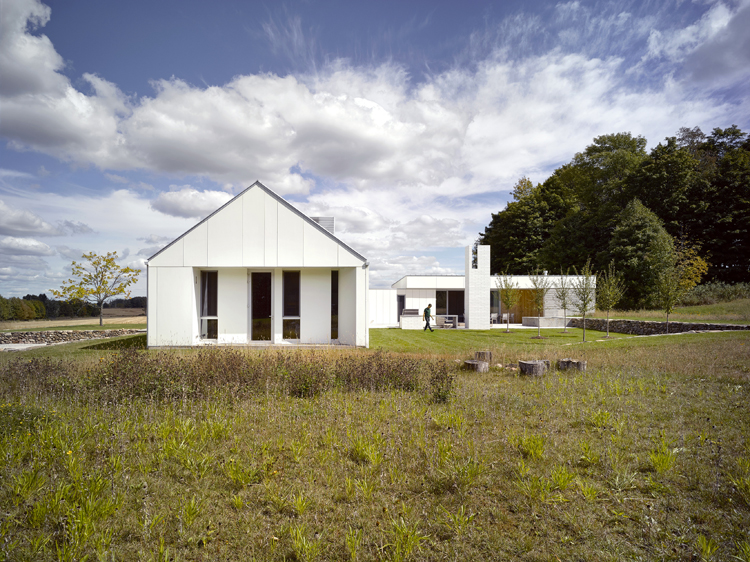 Landscape manipulations help embed and connect the house to its site: constructed with fieldstone found on the property, low retaining walls create a foundational plinth for the house and an enhanced sectional dynamic. Two perpendicular wings enclose an intimately scaled outdoor courtyard. In response to the building's low-lying horizontality, the totemic form of the outdoor fireplace adds a critical vertical counterpoint, as do the judiciously placed skylights in the soaring pitched roof planes of the house, which allow soft washes of light to illuminate the interior. The eye is drawn upward, establishing an intensified and spiritual relationship to a larger environment of sky, sun and clouds.
The form of the main residence innovates on the historical precedent of the longhouse — an inherently efficient typology found throughout Europe and parts of North America. With an elongated narrow footprint, all rooms and spaces enjoy pronounced natural light and ventilation. The length also allows for a balanced and effective distribution of programming, with a generously scaled yet intimate family space — including kitchen, dining and living areas — at the centre of the plan, and bedrooms comfortably separated on either end.
Inside, floors and walls made from white oak and knotty white cedar are textured and warm. In contrast, the ceiling above the main space is white, expansive and seemingly boundless. The distinct difference in materiality echoes the meeting of land and sky outside.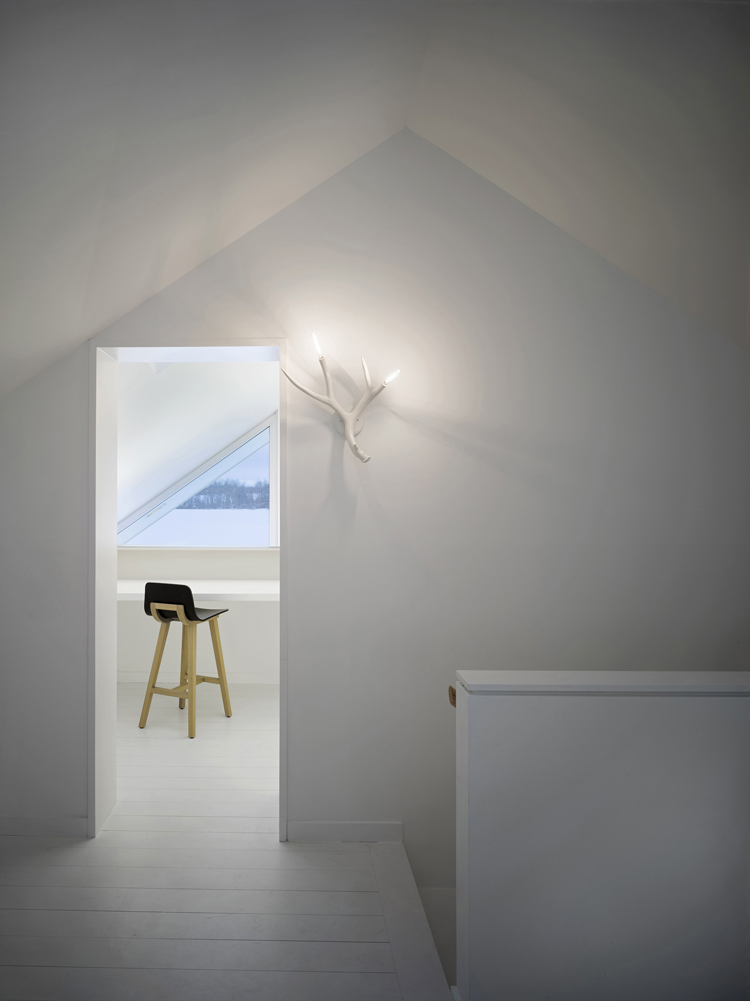 all images © Ben Rahn / A-Frame
Comments
comments