A stunning 25-metre-long real blue whale skeleton has been suspended from the ceiling of the entrance hall at London's Natural History Museum –  giving visitors the opportunity to walk underneath the largest creature ever to have lived. London interiors studio Casson Mann overhauled the foyer as part of an ongoing renovation of the historic museum.
Blue whales were hunted to the brink of extinction in the twentieth century, but were also one of the first species that humans decided to save on a global scale. The Museum has named the female blue whale Hope, as a symbol of humanity's power to shape a sustainable future.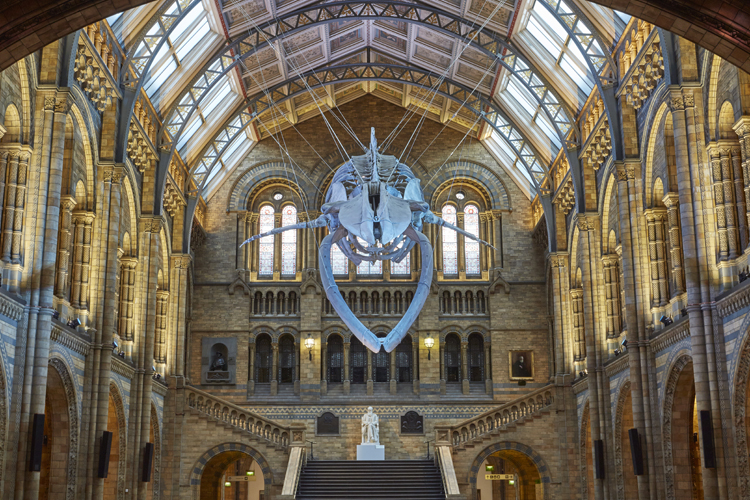 She will be joined in Hintze Hall by hundreds of new specimens, chosen to celebrate the wonder and beauty of the natural world, from the origins of the universe, to the story of evolution and diversity in the world today. Ten star specimens has been arranged in the ground floor alcoves – known as Wonder Bays – including a 4.5-billion-year-old meteorite, a Mantellisaurus dinosaur skeleton, giraffes and a blue marlin.
Hope takes centre stage in Hintze Hall in place of Dippy, the Diplodocus dinosaur skeleton cast that is soon to embark on a two-year tour of the UK, visiting Scotland, Northern Ireland, Wales and five regions across England. Underneath the whale, a white marble plinth acts as an information point by day and a bar by night.
"This is a landmark moment for the Museum and for the millions of people from all over the world who visit us. The transformation of Hintze Hall represents a new era for us as a natural history museum for the future," says Sir Michael Dixon, Director of the Natural History Museum. "Putting our blue whale, Hope, at the centre of the Museum, between living species on the West and extinct species on the East, is a powerful reminder of the fragility of life and the responsibility we have towards our planet."
"It's a huge privilege to have been tasked with the Hintze Hall redevelopment," adds Roger Mann, co-founder and director of Casson Mann. "I'm a londoner and this has been my favorite museum to visit since I can remember, and as an environmental designer I'm passionate about its beautiful architecture and very excited about this fantastic opportunity to create suitably stunning contemporary displays within its extraordinary interior."
all images courtesy of Natural History Museum
Comments
comments