This Mini Treehouse  in Hong Kong has been recently refurbished by local firm NC Design and Architecture, adding a cozy bedroom suspended above the living space. Originally, the Mini Treehouse had a typical residential layout with a separate bedroom, living, dining and kitchen spaces arranged on a single level.
To make the most of its 34 square metres, the design team has removed the structure's internal wall and moved its bedroom onto a new upper level, taking advantage of the treehouse's 10-foot-high ceilings.
Removal of the single existing internal wall created an open plan lower level dedicated to living and dining alongside a galley-style kitchen with a 6-feet high ceiling, which is slightly higher than the occupant who is 5-feet 7inches. Ladder-like steps lead upstairs to a 4-feet high-elevated bedroom deck with just enough space for the occupant to sit upright while reading.
A new material palette takes its cue from the verdant surroundings with the living and dining walls painted in dark blue to frame the view and provide a subtle contrast to the lush green surroundings viewed from floor-to-ceiling. Bright textured terracotta tiles line the treehouse façade, adding a touch of natural warmth.
Upstairs, the intimate 40-square feet sleep space clad in natural pine wood appears to float in space while a linear bed-side window frames the forest view, reinforcing a sense of Zen-like connection with nature. A cupboard to one side of the bed is painted dark blue to merge with the lower living room half and continues the natural wood theme on the upper bedroom half to highlight the two distinct spaces.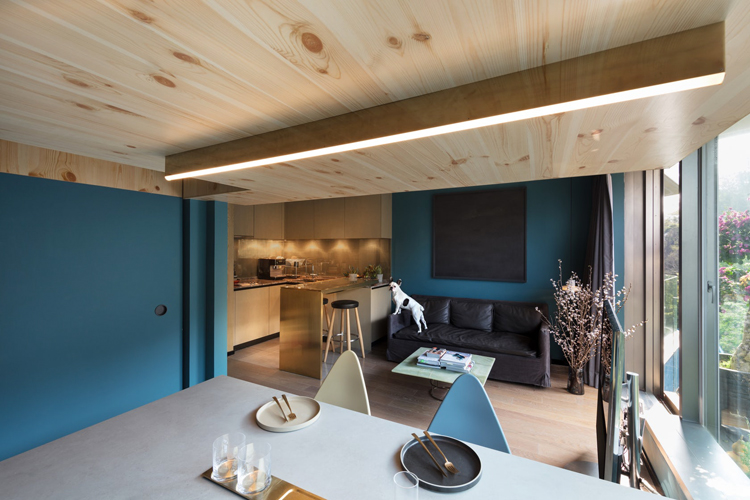 Alongside the living area is a mini garden with a sculptural Bougainvillea tree placed on a glass-sided balcony, extending views from the residence into the hillside forest while blurring the boundary between indoors and outdoors.
The Mini Treehouse is an example of how small residential spaces can be used efficiently. Through integrating elements that reflect its natural surroundings, NCDA created a unique, playful sense of space that maximizes its panoramic forested context within a decidedly compact, urban setting.
all images © Dennis Lo
Comments
comments