Italian firm Studio DiDeA has recently converted a former brick manufacturing facility located in a historical building in downtown Palermo into a tiny loft with clever storage and space-saving solutions featuring double-height spaces and a black steel staircase.
The two-story loft has a longitudinal development with a groin-vaulted ceiling. 
The designers had to face some obstacles mainly due to the small size and to the lack of natural lighting -the apartment takes sunlight only from two high industrial windows opening on an internal courtyard. For this reason, all of the furniture is custom made to
create a comfortable and cohesive interior environment fulfilling the owner's practical and aesthetic needs.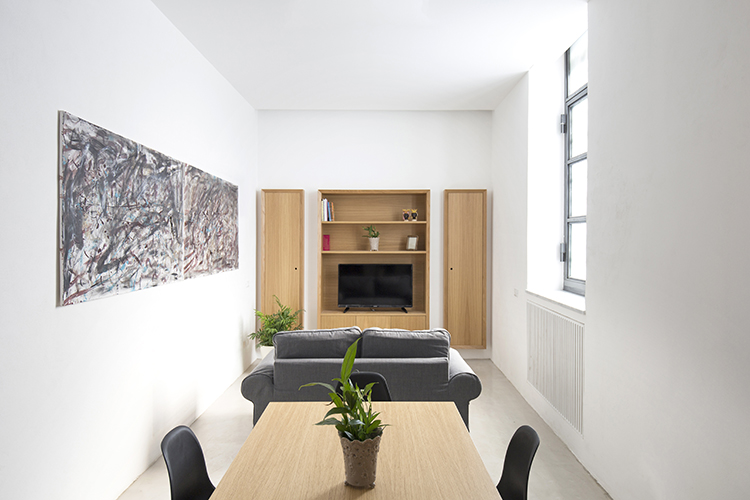 The choice to use light colored materials brightens the space. 
From the internal courtyard, an industrial iron door provides access to the ground floor where there are the kitchen, dining and living room and a small bathroom. 
The steel staircase takes center stage, conceived as a functional volume encasing an understair kitchen closet, whose main feature is its deep grey color. The kitchen cabinetry was designed to optimize the space. It can be opened and become a fully equipped cooktop and kitchen sink with a drop-leaf opening table. The dining zone features an oak dining table underlined by a pendant light; from here a small living zone is organized through a sofa placed in front of a tripartite unit made from oak built into the wall.
The stair -whose first 4 steps realized in oak wood provide extra storage space – leads to the night zone on the first level with the bedroom overlooking the double eight, walk-in closet and bathroom. 
In contrast to the resin flooring of the first level the night zone features an oak wooden parquet flooring except for the bathroom. 
The groin vaulted ceiling is enhanced through lighting spots placed at the base of the arches.The headboard behind the bed works acts as separating panel with the walk-in closet.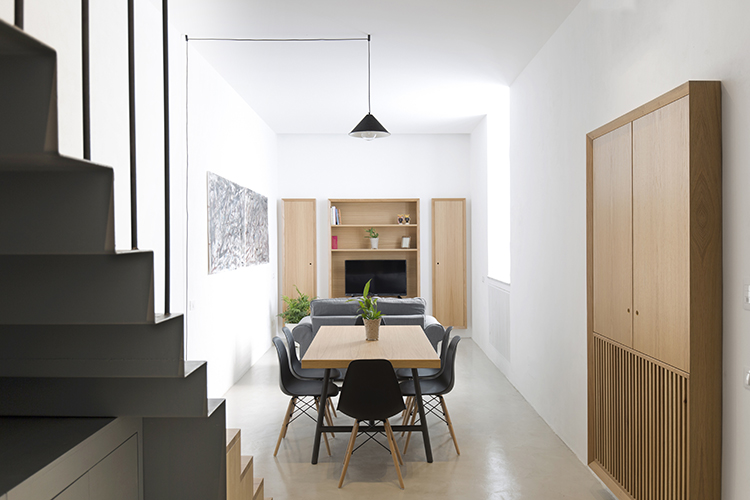 "
This place was a small artisanal brick manufacturing workshop.
Designing a minimal house in a historical context was a complicated task requesting us to study and look for architectural devices allowing us to save space still respecting the original architectural shape," explains the architects.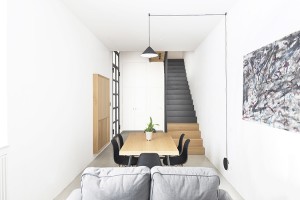 Comments
comments