Described as a 'long pavilion for living', the Hidden Valley Desert House by Phoenix studio Wendell Burnette Architects is composed of a canopy hovering above a plinth in Arizona, USA. The residence was designed for a couple with grown children who desired a serene home that embraced the natural setting.
With great views over the Phoenix valley and the surrounding mountains, the south-facing house emerges from a cactus-studded hill, on a ground-based plinth, which roughly follows the east to west contours of the site.
Hovering above the plinth is a large shade canopy that embodies the necessary sustenance for this shelter as a home. The thickened canopy will harvest the majority of the energy and some of the water needed for this close to net zero house, as well as housing all mechanicals. The expansive canopy is supported by a dispersed core of mass forms that minimize glass to wall percentage (35/65% respectively) while framing focused views for a range of indoor/outdoor programs north, south, east, and west.
The west end/lower level of the plinth is inhabited as a thick cave, while the main level/top of the plinth is open in all directions and, at times, has no discernible distinctions between inside and outside. This plinth level is lived upon as one contiguous space under one continuous canopy that connects the 2000 SF indoor programmed space with 1000 SF of fully programmed/fully shaded outdoor space.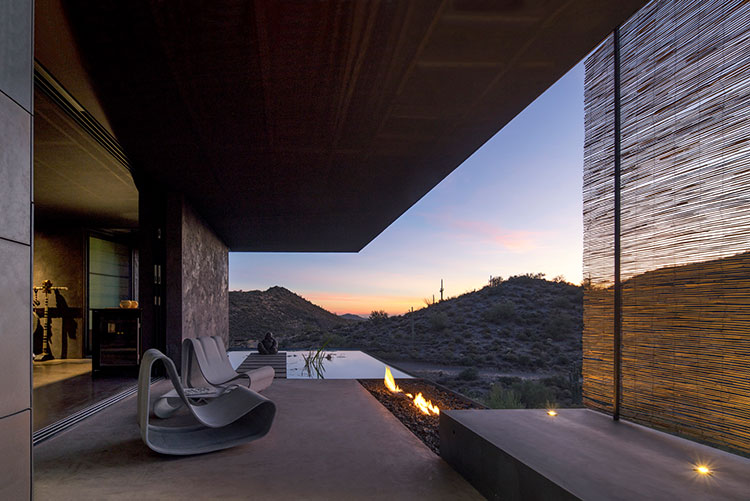 The plinth is made of a hybrid economic construction of stepped local concrete masonry walls with an integrally colored concrete slab rendered monolithic with a verati-like plaster. The deep mill finish stainless steel canopy fascia screens the photovoltaic solar panels beyond while mirroring the landscape and sky. A black theatrical fabric creates a continuous feeling of soft shade on the canopy's inside and outside areas, and subtly screens the conventional gang-nail wood truss roof structure and insulation above.
The central and dispersed cores are finished with similar "shadow reflective finishes" of cold-rolled mill finish steel, ebonized sustainable MDF (Medite), three different dark finishes of highly sustainable resin-infused paper (Richlite), as well as an integral color purple-black Wabi-Sabi stucco with vermiculite. The shadow cores meld with the underside of the canopy while housing a diverse range of smaller programs that free up the space within, without and between.
Comments
comments