Located on the rooftop of an existing building within the San Juan neighborhood of Quito, Ecuador, the Parasitic House (Casa Parásito) by El Sindicato Arquitectura is a compact dwelling measuring just 12 sqm focused on solving the basic habitation necessities for a person or young couple.
The project is inspired by a quote from former Uruguayan politician, José Mujica, who said: "poor is not who owns little, but who needs a lot.
The small structure includes a bathroom, kitchen, bed, storage and a flexible space for eating, working and socializing. Constructed using a timber A-frame, the rectangular core of the house has been conceived for 'standing' activities such as cooking. Adjacent to this core, the smaller triangles and rhomboids provide places for storage and sleeping, while also giving additional stability to the overall structure.
The project is composed of 3 modules created by 4 structural frames that combine spaces free of utilitarian objects, in order to maximize the use of the volume and diminish the built area. This allows the flexible space of the rectangular core to be used to the convenience of the activity performed in the dwelling. With a large transparent window, the project lets natural light in through the North Façade. It opens views towards the city and the Cotacachi, Imbabura, Mojanda, and Cayambe volcanoes.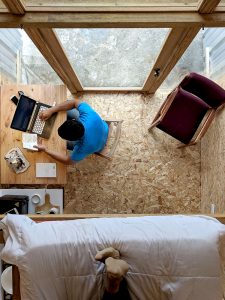 On the other hand, frosted glass on the south façade ensures good illumination, ventilation, and privacy towards the neighbors. On the east and west façade, which in Ecuador they get direct sunlight during the whole year, are completely closed to avoid the access of direct sunlight. For interior walls and flooring, OSB panels are used as a finish. For exteriors walls and roof, steel panels. Given the timber structure and substructure for fixing the metallic panels, the architects create a 12cm insulation void which is filled with coconut fiber as insulating material. Steel foundations are employed to attach the building to the slab of the existing roof.
Although it is possible to build the project in urban or rural plots without existing constructions, the architects imagine the intervention to ideally occur on underused rooftops in urban environments that are structurally sound. Buildings where one can connect to the existing water, waste and electrical grids. In this way, the house contributes to the densification of the city on only a very small scale, with a minimum of economic investment and use of resources, as well as contributing to the conservation of the architectural heritage.
Comments
comments