Over the Under – Manhole Art tells the story of a cabled city is an open air exhibition to show 24 manhole covers designed by renowned protagonists of the Italian fashion world.
Edited by Monica Nascimbeni, the exhibition "Sopra il Sotto –Tombini Art raccontano la Città Cablata" (Over the under – Manhole Art tells the story of a cabled city) is a cultural initiative created by Metroweb, the owner company of the largest fibre optic network in Europe and the real patron of this visionary art project which explains the optic fibre network and its innovation through a unique exhibition.
The first edition (2009-2010) of the open air exhibition staged, or better, put on the road, in the area around via Tortona 32 artistic manhole covers made by famous Italian street artists. The second edition (2011-2012) in via MonteNapoleone has featured for more than one year 20 creations by world-known street artists, like Shepard Fairey, an American artist who became a cultural phenomenon for Barack Obama's iconography, Space Invader from Paris with his very famous aliens "with pixels", Flying Fortress from Berlin, Rendo from Italy and The London Police from the UK. All manhole covers have later been auctioned by Christie's, earning 120,000 Euros, given entirely to charity.
Unlike for fashion shows, there is no need to have an invitation, but just to be curious and willing to be touched by these cast-iron paintings made by the representatives of Italian excellence. 
Until January 2016 in via MonteNapoleone and in via Sant'Andrea there will be 24 artistic manhole covers, unique and original pieces, hand-carved and hand-painted, site-specifically conceived and created by the fashion designers who decided to take part to the project with enthusiasm and to trigger their creativity: Giorgio Armani, Just Cavalli, Etro, Missoni, Larusmiani, Laura Biagiotti, Costume National, Moschino, 10 Corso Como, Prada, Trussardi, DSquared2, Versace, Iceberg, Brunello Cucinelli, Hogan, Alberta Ferretti, Valentino, Salvatore Ferragamo, Emilio Pucci, Giuseppe Zanotti Design, Ermenegildo Zegna.
Like for past editions, at the end of the open air exhibition, the manhole covers, after a careful renovation, will be auctioned by Christie's and the revenues will be entirely given to charity by Metroweb to the non-profit organization Oxfam Italia, Expo 2015 Civil Society Participant.
The project is sponsored by the Municipality of Milan, in partnership with the Camera Nazionale della Moda Italiana (The National Chamber for Italian Fashion) and Oxfam Italia.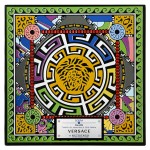 all images © SERGIO CAMINATA
Comments
comments