A floating flower garden filled with living flowers that float up and down in relation to the movement of people in the space welcomes the visitors of the National Museum of Emerging Science and Innovation in Tokyo, Japan. When a viewer gets close to this flower-filled space, the flowers close to the viewer rise upwards all at once, creating a hemispherical space with the viewer at its center. In other words, although the whole space is filled with flowers, a hemispherical space is constantly being created with the viewer at its center and the viewer is free to move around wherever they want. If many viewers get close to one another, the dome spaces link up to form one single space.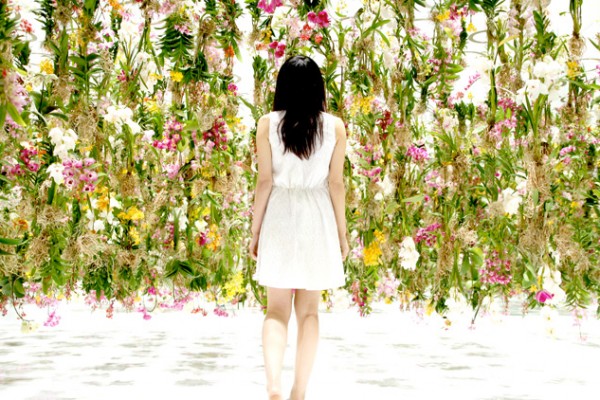 In this interactive floating flower garden viewers are immersed in flowers, and become completely one with the garden itself. Over 2,300 floating flowers bloom in the space. These flowers are alive and growing with each passing day.
Each flower has a partner insect and the scent of the flowers becomes stronger at the time that the insect is most active, as a result the scent of the air in the garden space changes according to the time of day, morning, noon, and evening.
The installation conceived by teamLab will be on display at the National Museum of Emerging Science and Innovation till May 10, 2015.
all images and video courtesy of teamLab
Comments
comments