Julien Salaud invites the viewers into a space that encompasses a combination of nature and culture, shamanism, mysticism, and beauty, all of which are in dialogue with body culture in contemporary art. In his newest site-specific installation Fleuve Céleste, 82 feet beneath the ground, the eccentric artist has filled the cellars of the Maison Ackerman with approximately 28 miles of cotton thread and 65,000 nails.
He has created scenes that recall renaissance frescoes and prehistoric wall paintings by interweaving threads, held down by nails, into deer and other local wild animals as well as unearthly beings. These figures seem to have been captured by the web of threads, which defines not only their movement but also its limits.
The site-specific installation is illuminated by a projected ultraviolet light, endowing the work with a fantastic, futuristic appearance. The richly symbolic hybrid images – combining animals, plants, and ornamental forms – offer a spectacular vision. Fleuve Céleste will remain on display until December 2017.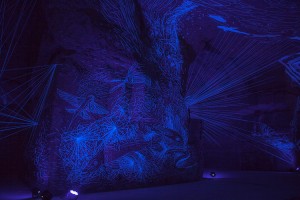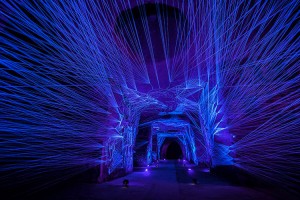 all images and video courtesy of FONTEVRAUD
Comments
comments