KAWS is set to open his first-ever UK show this week at the Yorkshire Sculpture Park where the Brooklyn-based artist will be unveiling a series of new paintings. The exhibition, in the expansive Longside Gallery and open air, features over 20 works: commanding sculptures in bronze, fibreglass, aluminium and wood alongside large, bright canvases immaculately rendered in acrylic paint – some created especially for the exhibition. The Park's historically designed landscape becomes home to a series of monumental and imposing sculptures, including a new six-metre-tall work, which take KAWS's idiosyncratic form of almost-recognisable characters in the process of growing up.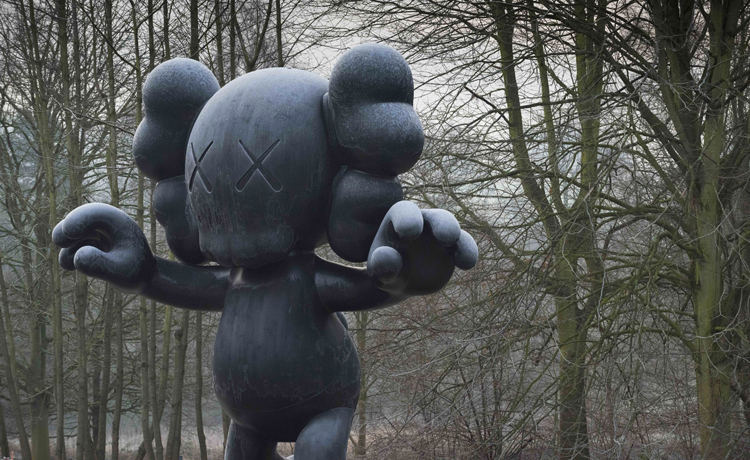 In Longside Gallery, KAWS's oeuvre is further extended by works including Accomplice, a baby pink monstrous rabbit figure, a neon pink Chum, a bulbous figure, and the spermatozoa-like Bonr To Bend, while Companion (Resting Place), and the three-metre-high Companion (Originalfake) from the artist's Tokyo store, with its skin peeled back to reveal highly coloured internal organs, is profoundly exposed. He Eats Alone, fabricated in Corian and aluminium is a hybrid sculpture/painting, while Ups and Downs, the artist's series of 10 acrylic canvases, point towards SpongeBob.
The artist has made a series of five paintings especially for the exhibition. Each measuring 112 x 92 inches, they will span the largest wall of the spacious gallery, creating a swathe of brilliant colour and complex energy. Constructed with painstaking attention to detail, the abstracted forms overlay and interweave, forming shadows and deepening space to reveal a slinking, enigmatic figure.
'KAWS' runs from 6 February until 12 June 2016. For more information, visit the Yorkshire Sculpture Park website.
all images © Jonty Wilde | courtesy of Yorkshire Sculpture Park
Comments
comments