Immerse in the desert south of Las Vegas, Internationally renowned Swiss artist Ugo Rondinone's Seven Magic Mountains is a large-scale site-specific public art installation that rises from the rocky terrain.  The shapes, reminiscent of naturally-occurring hoodoos, seem poised between monumentality and collapse. The mammoth contemporary cairns created by the artist evoke the art of meditative rock balancing, and mark his place in the history of Land Art. This is a must-see sight and one of the cheap things to do in Vegas.
Mediating between geological formations and abstract compositions, Rondinone's Seven Magic Mountains consists of locally-sourced limestone boulders stacked vertically in groups ranging between three and six. Each stone boasts a different fluorescent color; each individual totem stands between thirty and thirty-five feet high.
The artwork extends Rondinone's long-running interest in natural phenomena and their reformulation in art. The titles and forms of his paintings and sculptures have frequently evoked primordial phenomena such as air, moons, the sun, and the cosmos. Referring concurrently to the natural world, romanticism, and existentialism, Seven Magic Mountains encapsulates a sort of mental trinity that has underpinned the artist's work for more than two decades. In a new iteration of themes and materials, Seven Magic Mountains creates a sense of romantic minimalism.
"Seven Magic Mountains elicits continuities and solidarities between human and nature, artificial and natural, then and now," says Rondinone.
Located a short distance from Nevada's legendary Jean Dry Lake where Jean Tinquely and Michael Heizer created significant sculptures, Seven Magic Mountains is one of the largest land-based art installations in the United States completed in over 40 years. The work pays homage to the history of Land Art while also offering a contemporary critique of the simulacra in nearby Las Vegas.
Positioned within the Ivanpah Valley and surrounded by mountains, the piece will be on view for two years. Seven Magic Mountains is produced by Art Production Fund, New York and Nevada Museum of Art , Reno.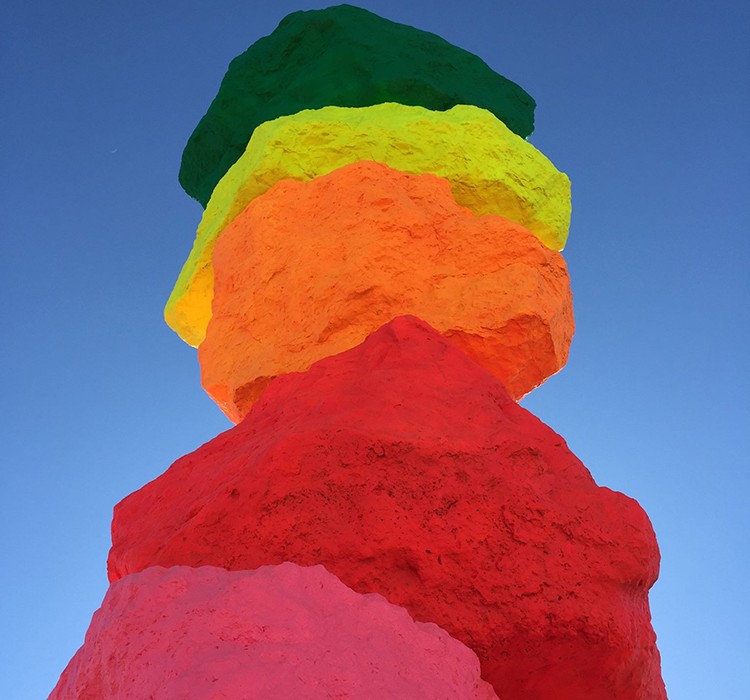 all images courtesy Nevada Museum of Art and Art Production Fund
Comments
comments