Architects Aljoša Dekleva and Tina Gregorič have built a wooden library inside the Slovenian Pavilion at the Venice Architecture Biennale that examines the role of the 'home' today. Commissioned by the Museum of Architecture and Design (MAO), 'Home at Arsenale' responds to the Biennale's title 'Reporting from the front' by addressing domestic topics as critical, social, and environmental issues.
The project proposes the concept of home as a public curated library that opens up a platform for multiple responses on the topics of home and dwelling within the current spatial and social conditions. Challenging the private/public dichotomy within the dwelling domain the project suggests a transformation of private home into possible temporary-public home environment.
The installation inhabits and reacts to the given space in Arsenale with a spatial structure containing a curated collection of books and objects of domesticity suggestive of the domestic realm. A full-scale spatial structure, generated by a site-specific system of wooden bookshelves, performs simultaneously as curated library and as abstract compact home encouraging visitors to inhabit and experience it.
Invited architects, artists, critics and curators from various backgrounds are participating with their selection of some 10 books addressing the notions of home and dwelling and to share their experience and expertise 'from their fronts' in order to build the curated library of collective knowledge for the benefit of exhibition visitors. Additionally, the participants are invited to become temporary residents of 'Home at Arsenale' for one hour to one day and to host live events that question what defines home today through interviews, talks or workshops, in order to intensify the interaction with the public. Ultimately the 'Home at Arsenale', with around 300 books, will relocate to the Museum of Architecture and Design in Ljubljana, to be continually available for public use.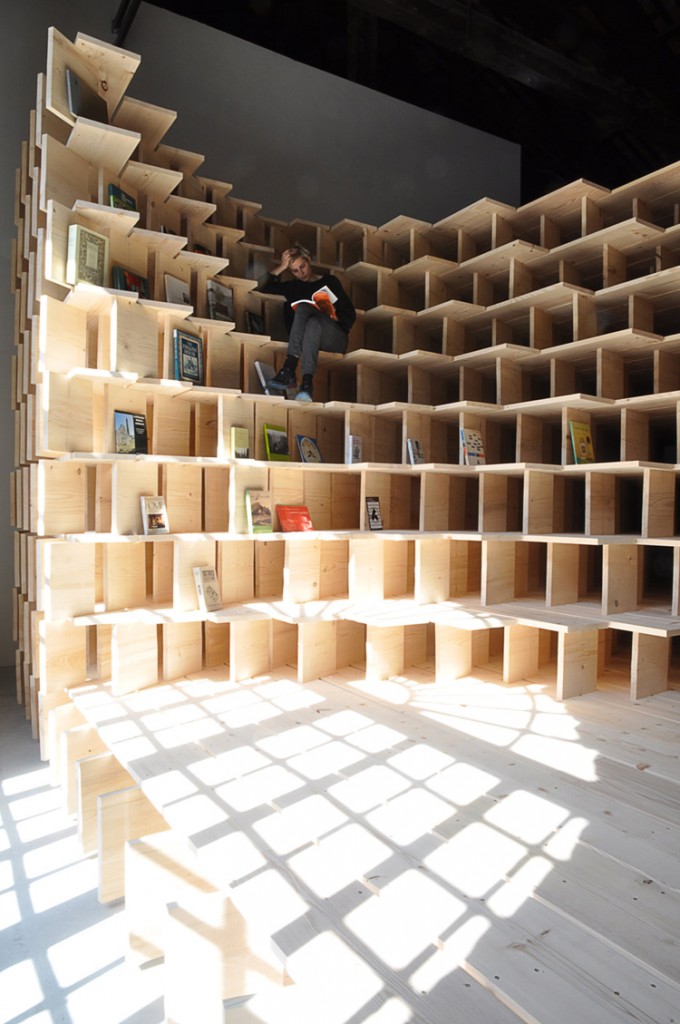 all images courtesy of Museum of Architecture and Design (MAO)
Comments
comments