Rolls-Royce will celebrate the 50th anniversary year of Sgt.Pepper's Lonely Hearts Club Band bringing the colourful Rolls-Royce Phantom V, famous for being owned by John Lennon, back home to London.
Currently owned by the Royal British Columbia Museum in Canada, The John Lennon Phantom V will travel from Canada to London to join 'The Great Eight Phantoms' – A Rolls-Royce Exhibition, at Bonhams on Bond Street, an area visited regularly by Lennon in the late 1960s in this very car.
On 3 June 1965 – the same day that Edward H White left the capsule of his Gemini 4 to become the first American to walk in space – John Lennon took delivery of something rather special. It was a Rolls-Royce Phantom V in Valentine Black. He would later say that he always wanted to be an eccentric millionaire, and the Phantom would become an important step towards that dream.
Lennon had the Phantom V customised in true rock-star style. The rear seat was converted to a double bed, a television, telephone and refrigerator were installed, along with a 'floating' record player and a custom sound system (which included an external loud hailer).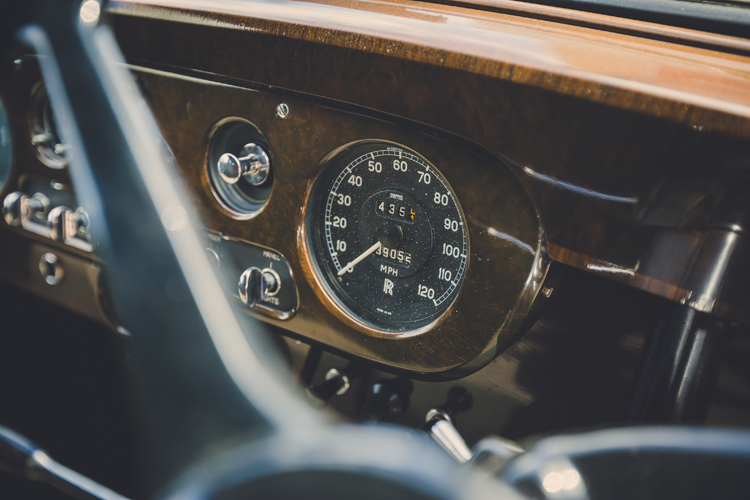 Then, in April 1967, just as the recording of the game-changing Sgt. Pepper's Lonely Hearts Club Band was finishing, Lennon asked Surrey coachbuilders, JP Fallon, to give the Phantom a new paint job. The freshly-painted Phantom was unveiled days before the worldwide release of Sgt. Pepper's on 1 June and it seemed part of the overall concept of the album.
The new colour scheme is often described as 'psychedelic' and certainly the colours, particularly the dominant yellow, reflected the cover of Sgt. Pepper's Lonely Hearts Club Band. But look carefully and you will see it is no random swirl, but a floral Romany scroll design, as used on gypsy caravans and canal barges, with a zodiac symbol on the roof. 
The Phantom V was used regularly by Lennon until 1969 (Lennon also owned a slightly less conspicuous all-white Phantom V). Having used it, pre-paint change, to collect his MBE with his bandmates in 1965, he then used it again in 1969 to return his MBE to the Palace, in protest against, among other things, the Vietnam War. The car was shipped to the USA in 1970 when Lennon moved there and was loaned out to ferry other rock stars around such as The Rolling Stones, Bob Dylan and The Moody Blues. In 1977, after a period in storage, donated by billionaire Jim Pattison to the Royal British Columbia Museum in Victoria, British Columbia, Canada.
The John Lennon Phantom V  will be on view at 'The Great Eight Phantoms' – a Rolls-Royce Exhibition, which will take place at Bonhams international flagship saleroom and galleries in New Bond Street, London, from 29 July to the 2 August.
all images courtesy of Rolls-Royce
Comments
comments