AMO's "True Me" exhibition has opened at the 798 Art Factory in Beijing. "True Me" contemplates contemporary selfie-culture and explores different possible modes of self-representation through art and media.
It features artworks by contemporary artist and photographers such as Chen Tianzhuo, Hou Ying, Lu Yang, Maleonn, Xie Haiwei, Ye Funa, teamLab and Theodore Bradley, and is jointly organized by App developer Meitu and the Beijing Contemporary Arts Foundation on the occasion of the launch of Meitu's new logo.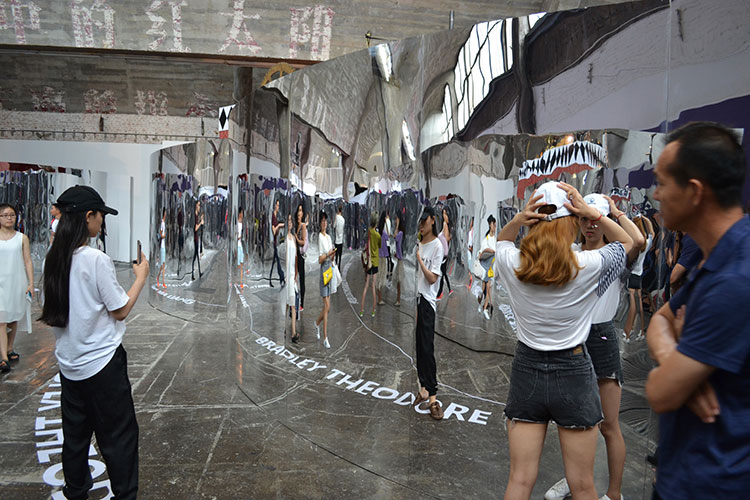 The exhibition design extends AMO's interest in studying visual culture and translating this research into staged space such as exhibition designs, fashion show sets and retail interiors. The Meitu app enables its 1 billion users to retouch their selfie images, producing highly beautified, new expressions of the self.
The contradiction between this post-produced outer self and raw inner self-forms the concept for the design of the exhibition spaces. A central corridor situated between circular rooms welcomes visitors into the show, where they encounter the hard reality of head to toe curved mirrors, reflecting their outer self. This mirror-cladded space is contrasted by six soft zones (clothed in grass, flannel and felt), that display the inner self, a journey along visual artworks and performances.
The design was led by OMA Partner and Asia Director Chris van Duijn. It is AMO's first exhibition design in China and forms part of a sequence of various cultural projects designed at OMA's Hong Kong office. With "True Me", OMA continues to be involved in the vibrant progressive cultural scenes of Asia, after redefining automotive retail at the Genesis Gangnam store in Seoul and blending commercial and cultural spaces with the recently opened Columbia Circle in Shanghai. OMA is also working on the extension of a leading art institute in Beijing, which is currently under construction (expected completion at the end of 2018).
"True Me" will be open to visitors until August 14.
Comments
comments