During this year's Salone del Mobile Vitra and G-Star RAW will unveil the limited Prouvé RAW Office Edition, a collection that revives a series of furniture and lighting originally designed by Jean Prouvé in the 1940s.
Prouvé's constructive logic and strict utilisation of honest industrial materials not only corresponds to the product philosophy and brand identity of G-Star but also shows a strong affinity to the architecture of the brand's new headquarters, built in 2014 by architect Rem Koolhaas. Thus it was a consistent decision to furnish the offices, conference rooms and canteens of the new building with designs originally created by Jean Prouvé some 70 years ago for the interiors of several French corporations and universities. Together with the architecture, they create a workplace that reflects the company's radical design approach.
In cooperation with the Prouvé family, Vitra has adapted the French designer's furnishings to meet today's office norms and needs, while teaming up with art directors at G-Star to develop colours and details. As part of this project, single and double workstations, conference tables, office chairs and several other furniture pieces were issued exclusively for G-Star. In the new Prouvé RAW Office Edition, the designs in this crossover collection now become available to other companies and collectors.
Several industrial shades of green, leather and fabric upholstery materials, and other details pay tribute to the origins of these furnishings. Made of steel and solid wood, the tables, chairs and cabinets in the Prouvé RAW Office Edition bear witness to a bygone industrial age.
The Prouvé RAW Office Edition includes ten different designs, including office chairs, lamps and desks. Authenticated with a special edition label, the furniture and lighting in the Prouvé RAW Office Edition will be available until the end of 2016.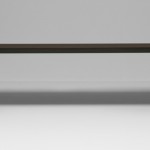 all images courtesy of G-STAR RAW
Comments
comments