Tel Aviv-based designer Luka Or combines paper and brass to recreate beautiful flowers, exploring the tension between the natural and the artificial in his 'Botanica' series. 'Botanica' is an ongoing exploration questioning the ability to recreate and maintain the natural essence of an organic plant in artificial ways.
Diverse textures, shapes and materials were tested in search of preserving both the fragile aesthetic and the ephemeral essence of natural life, using the "industrial" materials to create an hybrid that will not imitate life but combine the artificial nature of the materials with the organic nature of the plant to create a new form of aesthetics and raise discussion about the boundaries of our perception of the natural.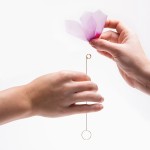 In the process, a new approach to the industrial materials was used. by searching the "true nature" of the paper sheet and the brass rod and manipulating them in accordance, a more natural shape was achieved.
'Botanica' by Luka Or will be exhibited in Milan design week as part of the 'yes&' exhibition at the XXI Triennale di Milano – '21st century. design after design'.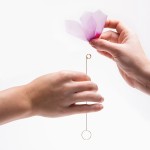 all images courtesy of Luka Or 
Comments
comments