The first large-scale retrospective exhibition of nendo and its founder Oki Sato has opened at Israel's Design Museum Holon. Visitors are walking in between a grid of open-top display cases a conceptual village, experiencing over 70 works divided into 6 categories of "in between spaces", providing a window into the creative process of the studio. nendo's designs begin by exploring and layering existing preconceptions, and then locating the gaps or "spaces" in between these layers to tie together new ideas.
Placed in the Museum's courtyard and welcoming visitors to the exhibition is 'in the shade', a new site-specific installation by nendo supported by Caesarstone. 'in the shade' is a series of 5 free-standing screens constructed using sheets of glass coloured by Glas Italia and held in place by Caesarstone pedestals. Each pedestal has been positioned to look as though it penetrates the glass' surface, appearing as if shade is falling onto the pedestal. Looking at the piece from one side, it evokes the feeling of being "outdoors" while what lies behind the screen appears to be "indoors". The overall effect of "the space in between" is achieved by separating the inside and outside through the overlapping boundaries between mass and air, light and shade.
Stretching from the interior to the exterior of the Design Museum Holon's grounds, the exhibition provides an overall thought-provoking and immersive experience.
"Design is something that you feel and enjoy. I want my pieces to talk for themselves. It is the small and the normal things that make it really special. Whilst normal and small there is something very interesting, something always hidden in the gaps and space in between" says Oki Sato, nendo 
The Space Between is on show at Design Museum Holon until 29 October.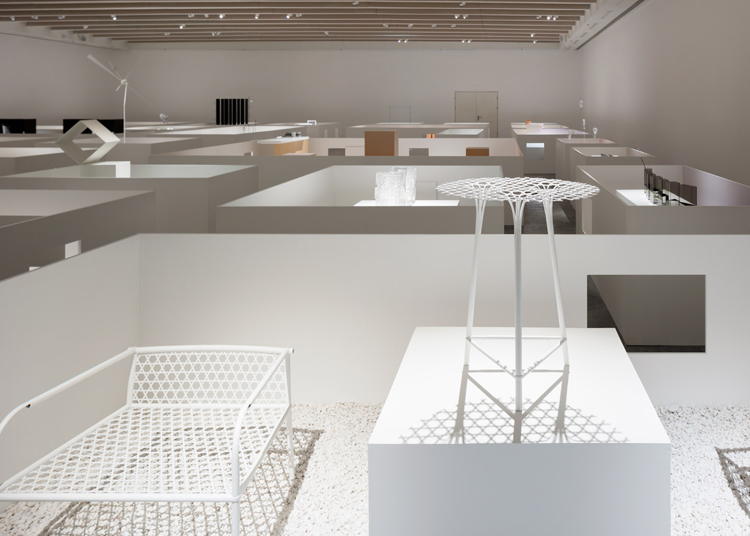 all images © Takumi Ota
Comments
comments