Cornell University's College of Architecture, Art and Planning has unveiled a twelve-piece versatile furniture collection designed by Hong Kong architecture office CL3 and design studio Lim + Lu for the school's New York City space in Manhattan's financial district.
The design journey began by examining the inherent qualities of these pushcarts and how they are used on a daily basis. They are sometimes used in an upright manner and at other times adopt a more reclined position. This bipolar characteristic of the pushcart presented the opportunity to design a furniture series that could also have multiple personalities. For example, a piece that functions as a three-seater sofa in its reclined position may transform into a coat rack when it's upright. When a piece is in one posture, one can notice subtle hints that it can be used in another stance. This exploration resulted in 12 pieces of multi-purpose portable furniture.
Due to the bespoke nature of these furniture pieces, its context was crucial to the success of the project. William Lim of CL3 commented: "We always like to approach our designs within context. Our practice is rooted in the principles of Asian design. We blend an intuitive sense of light, balance and proportion with contemporary solutions and innovative materials to produce design that are versatile. That's what we have done with this range: we have thought about the true purpose of the furniture. How it will become part of Cornell's fabric, go beyond the primary usage, and spread out within the context it has been placed within."
Vincent Lim of Lim + Lu added "This has been a fun journey. As alumni we have been peering back into our old school and thought what could we give back. Thinking back to our time as students and how we used the spaces around Cornell, to come together to share ideas. These have a nice function and form element to them, also to apply the Cornell crest to the structure adds a nice sense of pride. Unveiling these in May is a great time to coincide with the 29th annual ICFF platform for global design, where we also have a booth showing our other designs."
Kent Kleinman, Gale and Ira Drukier Dean of Cornell AAP commented: "Each piece is a hybrid; a modular urban element that functions as a kind of infrastructure, mated to a customized artifact specific to particular program. Taken together, they are a microcosm of Cornell's famous lessons in college urbanism."
Founder of CL3, William Lim, as well as both founding partners of Lim+Lu, Vincent Lim and Elaine Lu, are alumni of Cornell University's College of Architecture, Art and Planning.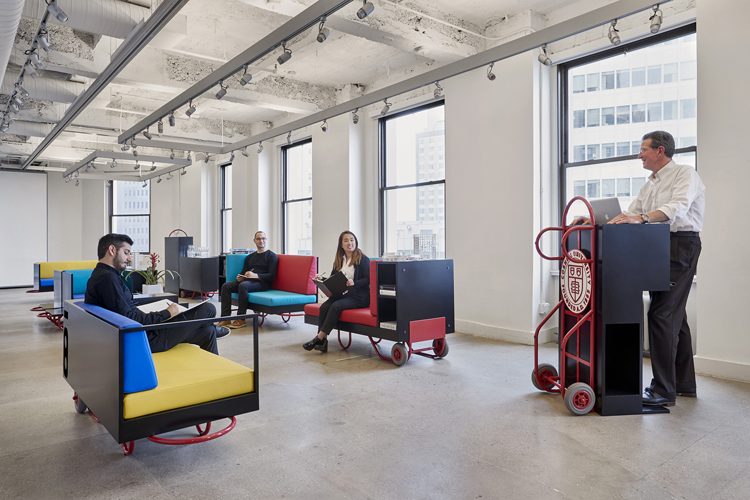 all images courtesy of Cornell AAP
Comments
comments