At Carpenters Workshop Gallery in Paris, French designer Mathieu Lehanneur presents his new furniture collection as part of the exhibition called Ocean Memories. A continuation of his Liquid Marble series, Ocean Memories evokes a surrealistic and materialized vision of an ocean frozen in its movement.
Designed digitally and made from blocks of white and grey marble as well as polished bronze, these remarkable pieces capture the complex movements of waves and water currents becoming three- dimensional still pictures of Nature's fifth element.
Through this new collection, Mathieu Lehanneur delves deeper into his exploration of the organic world. The works seem to hesitate between solid and liquid as though suspended in a poetic state of metamorphosis.
"The transition from solid to liquid can only come from the magic of physics. A moment of tilting from static to movement, a passage from the inert to the animated," says Lehanneur.
Ocean Memories tables, benches and stools are a combination of energy, movement, and strength. At once furniture and sculptures, these fragments of the ocean are attempts to crystallize life forever in stone and bronze.
The pieces build on the French designer's Liquid Marble series, which he debuted in 2013 at Milan design week with Turkish Stones. Since then Lehanneur has created a similar rippling pool made from green Guatemala marble for an installation at a French chateau and sculpted a block of black marble to look like the sea for an installation at the Musée des Arts décoratifs in Paris. Ocean Memories is on show at Carpenters Workshop Gallery until 22 June 2018.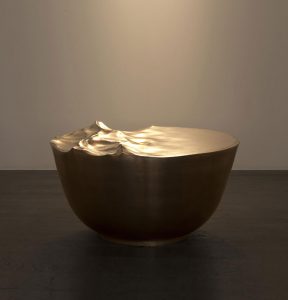 Comments
comments