The Weorgoran Pavilion, created by London-based design practice NEON, is a site-specific pavilion and performance venue which references the sinuous walls found in the canals and waterways of Worcester, UK. The piece combines a fluid form with over 100,000 shimmering sequins which cause the piece to change dramatically under the influence of wind and light.
The Weorgoran Pavilion is named after the original settlers of the Worcestershire area. The translation of this word from old Saxon English is "the people of the winding river" and the pavilion is designed to act as a device that enables the viewer to engage with the heritage of the waterways that surround the town.  
The Weorgoran Pavilion takes inspiration from the architectural language of the canals and waterways that surround the town. Specifically, the pavilion is inspired by the curved walls of the locks that are found close to the site. This geometry is referenced though a sweeping, sinuous wall which winds in and out to enclose a stage and a series of pockets for visitor "immersion". The pavilion's envelope is designed to emulate the way light and wind can affect the visual appearance of the surface of water. The piece was created in collaboration with Shimmerwalls and uses over 100,000 sequins which react when the wind blows and the light changes. Two bands of color are used to create a sense of flow and constant motion.
The Weorgoran Pavilion was primarily constructed offsite and transported to site for assembly over a 2 day period. The piece uses 18 "stud wall" type components which are fixed to a plinth that encompasses the stage and spaces for ballasting. A timber "I" beam passes across the front of the stage which allows a polycarbonate roof to span from the front to the back of the stage area.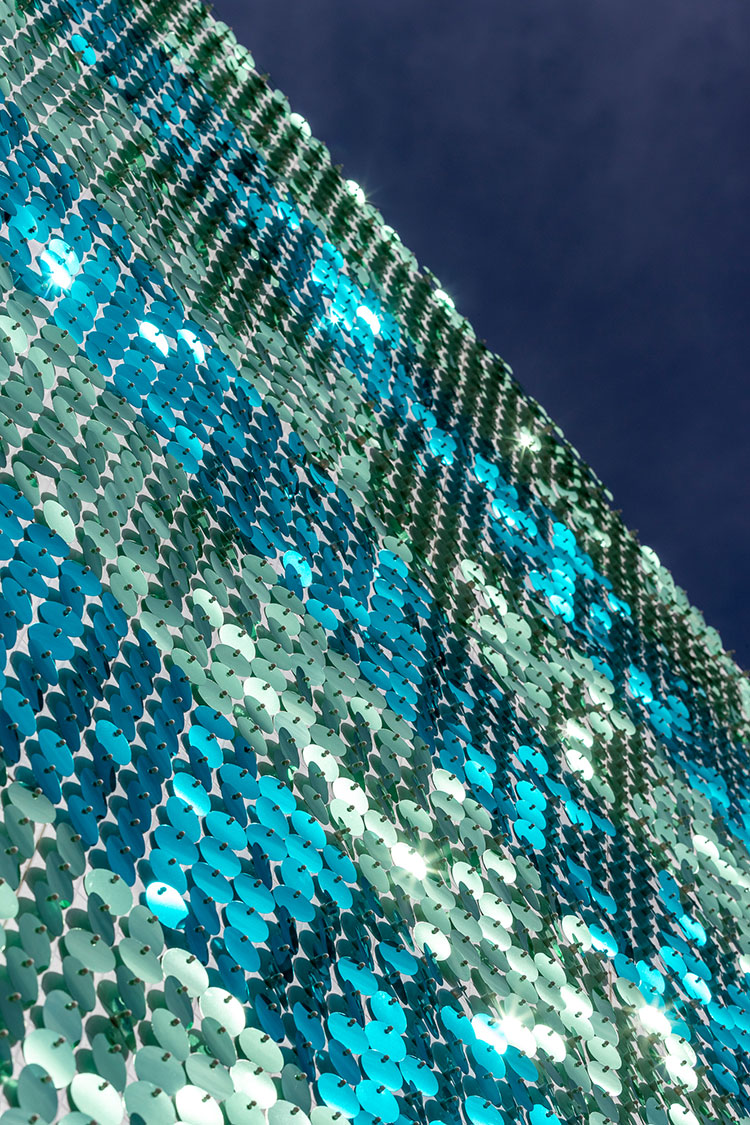 The pavilion hosted "The Festival by the River" which ran between 15th – 24th of June and offered a vibrant programme of literature, music, dance, and workshops led by local artists. Following the festival, the stage has been relocated to a woodland site close to Gloucester to host a yearly jazz festival.
The pavilion has been commissioned by the Canal and River Trust as part of the Arts Council England-funded "The Ring" a new arts programme which celebrates a 21-mile circle of natural and historic waterways which make up the Mid-Worcestershire Ring.
Comments
comments