With each new design for the collection, Zaha Hadid Design continues Zaha Hadid's inventive methodology and process; sharing Hadid's story and its significance within the dialogue of contemporary design. New pieces for 2019, which be debuted this week at Maison & Objet in Paris, include the Swirl bowl in crystal glass that captures the sweeping gesture of a liquefied vortex. A complex geometry, the bowl features topographical shifts that ripple across its surface.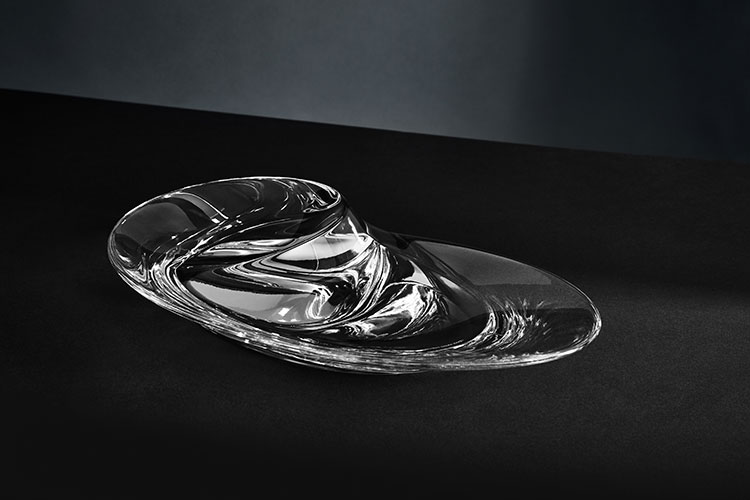 "The strength of the collection lies in our ability to interpret the ordinary into something unexpected," explains Woody Yao, Director, Zaha Hadid Design. "When designing objects, Zaha was never constrained by any given use or spatial context. We continue to follow this approach with an unwavering commitment to design ingenuity and material integrity."
Recent additions to the Cell family of pieces include the platter in Nero Marquina or Statuario marble, and the plate and bowl set in porcelain. The monochromatic colour palette accentuates their materiality, while a linear channel carved into the surface of the platter and plate enables objects to nest within their volumes.
The new Hew range of glassware is a visually engaging composition of pieces – a wine glass, highball, tumbler and carafe. Defined by Hadid's commitment to innovation, intricately carved vertical channels within each piece and delicate stems push the technical limits of glass-making to create a beautiful series of the finest glassware.
The Hew tray is an evolution of Hadid's acclaimed Mesa and Aqua table designs. Composed as series of conjoined surfaces that Hadid referenced as water-lily leaves, the tray is supported by a gently undulating base that also defines voids for carrying. A powder-coated finish of contrasting colours accentuates the variation between the Hew tray's surface and base.
Comments
comments