The Champs-Elysées Fountains form a contemporary six-piece installation created in collaboration with Swarovski and artists Ronan & Erwan Bouroullec. The mesmerizing design shines bright with 3,060 faceted crystals and marks the first commissioned work by the Fonds Pour Paris (the Paris Foundation) as part of an effort to reinvigorate the Parisian landscape with public projects.
Monumental bronze masts stand 13 meters high above renovated 19th-century basins on the Champs-Elysées roundabout between Place de la Concorde and the Arc de Triomphe. Each structure revolves gracefully as water flows up through the mast and streams out from glowing crystal limbs lit with sustainable LED technology. Each faceted crystal reflects the hues and movements of nature through infinite optical effects, creating a dreamy wonderland that mirrors the ebb and flow of this busy city intersection.
"We worked with Swarovski and their design office to combine crystal and light in a discreet and innovative luminous device," explains Ronan. "In this instance, crystal is like a living substance; its perception shifts with the changing light of day and over the course of the seasons."
As a permanent outdoor installation, the Champs-Elysées Fountains required crystal that was lightweight, resilient and easy to maintain – something Ronan noted would "withstand harsh weather conditions and environmental changes due to its composition and mode of assembly." This inspired a new specially patented tailor-made formula that registers as 30% lighter than traditional crystal, as well as the development of a new support structure that allows for quick and convenient upkeep. A total of three years of development, 40 companies and 250 people went into the design and production of this initiative, rivaling the technologically complex creations of the aviation or watchmaking industries.
Swarovski's partnership with Ronan and Erwan Bouroullec was established in 2007 with Caillou, a lighting collaboration for the Swarovski Crystal Palace in Milan, followed by the Gabriel Chandelier for the Château de Versailles in 2013. The fountains will be officially unveiled on March 21.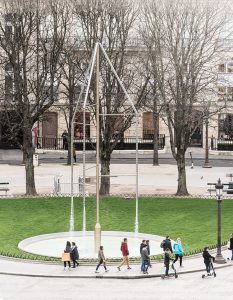 Comments
comments