In the Pilsen's Lochotín district, Czech Republic, a unique private oasis of gardens exists within a high-rise residential area, consisting of a solitary row of aged semi-detached family homes encircled by concrete blocks of flats. The majority of these homes have undergone renovations and expansions through subsequent additions, altering the original character and scale of the neighborhood.
The latest renovation proposal, led by Czech firm PRO-STORY, aims not only to meet the needs of a young family, but also to introduce a new dimension to the home.
The architects have cleverly incorporated two archetypal gabled roofs, giving the exterior a charming yet unassuming appearance. Inside, the space is transformed into a haven of creativity and versatility. Different floor levels, wooden mezzanines, and an open roof volume create a sense of spaciousness and freedom. Natural light floods the interior through windows adorned with wooden battens, striking a perfect balance between illumination and privacy.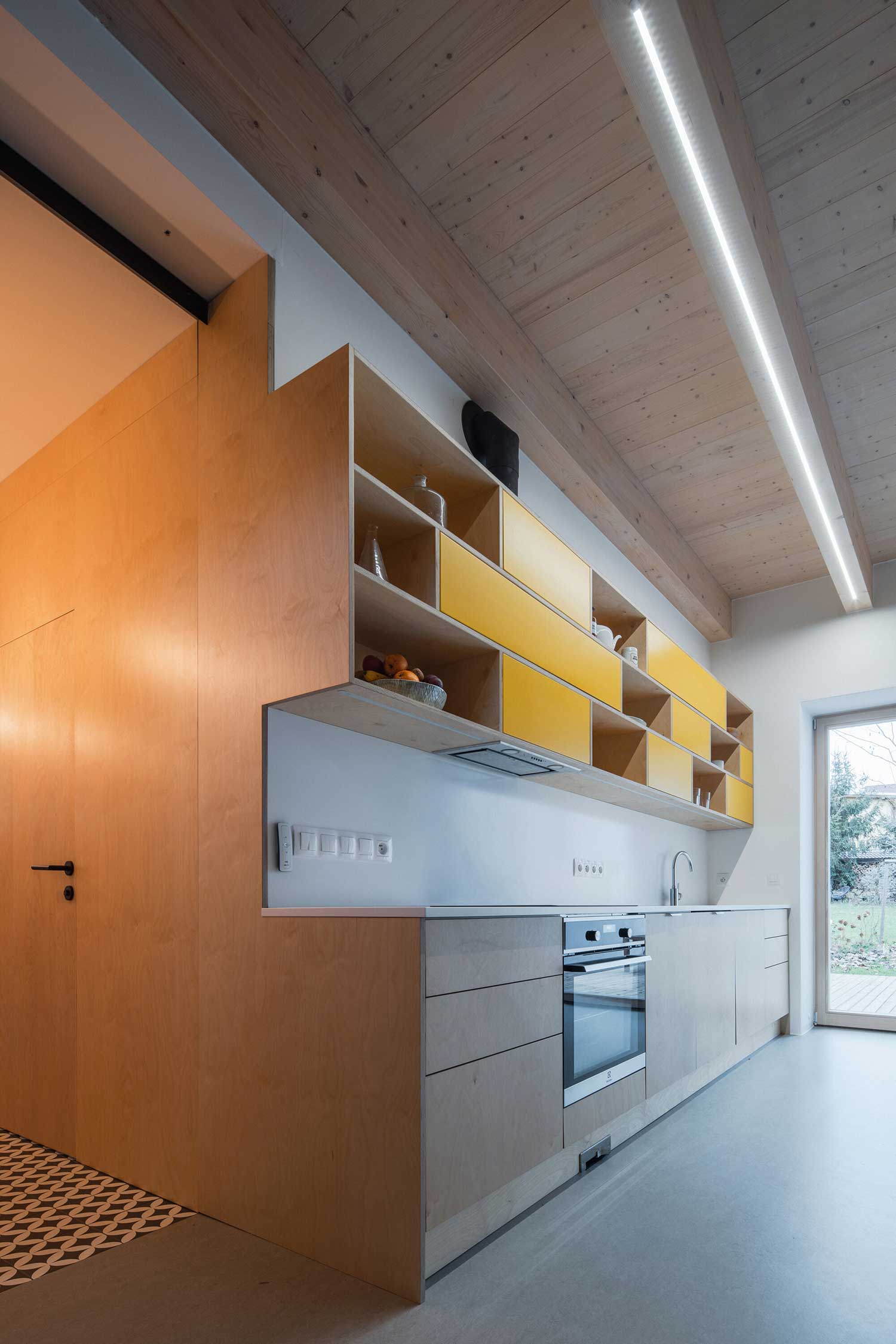 While the preserved parts of the house showcase its rich history, the new additions are contemporary elements that seamlessly blend with the old. The original facade elements have been carefully preserved, while the plastered facades have been unified with a fresh coat of white paint. The new wooden windows, simple and undivided, bring a touch of modernity to the traditional structure. The roof gable, garden facade, and new entrance extension are all clad in impregnated wooden battens, adding warmth and character to the overall design.
As you step inside, the ground floor welcomes you with a children's room, a bathroom, and a spacious living room that opens up to the garden. The connection between two rooms creates a seamless flow, allowing natural light to penetrate every corner. A unique feature of the living room is its open design, with a reading room inserted on the first floor. This clever addition not only brings light to the bathroom above but also adds a touch of whimsy to the space. On the first floor, you'll find a second children's room and a master bedroom with a bathroom, both of which have access to a mezzanine, providing a cozy retreat for relaxation and contemplation.
In this exceptional renovation, the past and the present intertwine, creating a harmonious blend of history and contemporary living. The result is a home that not only fulfills the needs of a modern family but also captures the imagination and invites you to explore its hidden treasures.
Image courtesy of Petr Polák