Usually, people seek to spy on others for different reasons. A person can spy on someone's Android phone to ensure their loved ones are safe. Also, spying on someone's phone can be handy in emergency cases. 
For parents, spying on their kid's Android devices ensures they can monitor their kid's activities. Fortunately, phone surveillance apps make spying on any Android device easy without arousing suspicion, such as mSpy app.
The best Android spy app allows you to spy on someone's Android discreetly and remotely. In this post, you are going to learn how to spy on someone's Android without the device user knowing. 
Neatpsy – The best Android spy app 
Neatspy allows you to spy on someone's Android device remotely. If you want the best Android spy without target phone, Neatspy is the best app for the job. The features of this app have gained the attention of media outlets such as CNET. 
Over a million users across the world trust and use Neatspy for their surveillance needs. Best of all, the app is compatible with both iOS and Android devices. Besides, it doesn't require compromising the target device. 
The app comes with over 35 Android surveillance features that make it easy to spy on anything. It can spy on everything from the real-time location of the target Android device to the installed app on the device.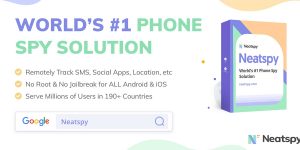 Unique Neatspy capabilities  
Neatspy boasts some of the best Android surveillance capabilities besides its features. Here are some of the capabilities that set it apart. 
1. No rooting necessary
Neatspy is a root-free Android surveillance app. So, you won't need technical know-how to use this app. To avoid this, Neatspy uses cutting-edge technology. 
Rooting an Android device leaves it vulnerable to malware attacks and exposes the device user to hackers. Besides, the process of rooting an Android device takes a lot of time. Also, rooting voids the device warranty. 
2. Works discreetly 
All the surveillance activities on the target Android device takes place in the background. This way, you won't have to worry about the app interfering with the Android device performance. 
What's more, it disguises itself in installed apps and automatically deletes its icon after installation. Also, when you are done spying on the target Android device, Neatspy allows you to uninstall the app remotely. 
3. Safe 
Neatspy provides a safe way of spying on any Android device. The app ensures you are the only one who can access the content on your Neatspy dashboard. Best of all, it doesn't gather data from third-party apps. 
4. Web-based spy app
Neatspy is a web-based Android spy app that lets you spy remotely. You only need to log in to your Neatspy dashboard to start spying on your target discreetly. It lets you use any web browser to access your dashboard. 
How to spy on someone's Android device using Neatspy 
With Neatspy, it takes a few easy steps to spy on any Android device. Below are the steps involved: 
Step 1: Visit the Neatspy website to sign up for the service. During signup, Neatspy will let you choose your login credentials. Also, ensure you choose a plan that will meet your Android surveillance needs. 
Step 2: To set up an Android device, you will need one-time access to the device to install the app. Neatspy is about 2 MB and takes less than 5 minutes to install. The app will automatically disguise itself in the Android device. 
Step 3: After installation, Neatspy will let you finish the process. 
Step 4: Neatspy will let you access your dashboard. Here, you will have access to all the different surveillance features. On the left, Neatspy provides access to a panel with all the features. 
Click on any tab on the access panel to start spying on the Android device. It allows you to spy on everything from social media apps to text messages and phone calls. Anything on the target device will be at your disposal. 
Amazing Neatspy features 
Here are some of the features you get from Neatspy:
1. Keylogger 
The Android keylogger records all the keystrokes made on the target device. It captures everything including usernames and passwords typed on the device. To make it easy to access the keystrokes, Neatspy groups them by app. 
Through this feature, you will know all the login credentials used on the target Android device. 
2. Location surveillance 
With Neatspy, you can spy on the whereabouts of the target Android device. The app lets you access real-time GPS location with details such as street address and GPS coordinates. 
Also, the app comes with a geofence feature. This allows users to get notifications whenever the target Android device crosses a set boundary. The geofence feature is popular with parents and employers. 
3. Social media surveillance 
Neatspy can spy on all the popular social media apps such as Facebook, Instagram, WhatsApp, and Snapchat among others. It lets you access all the chats and posts on these platforms. 
Also, it archives all the chats to ensure you have access to all the chats, even deleted ones. 
4. Call log and contact surveillance 
With Neatspy, you can spy on incoming and outgoing calls on the target Android smartphone. It gives you details such as time of call, call duration, and the phone number. Also, it lets you know the frequently contacted phone number. 
Conclusion 
The most convenient and easiest way to spy on an Android is through a spy app. Most surveillance apps support iOS and Android platforms. Check out Neatspy which is a leader in the surveillance industry.