Kengo Kuma and Associates has designed a chain-clad staircase for Gaudi's renovated Casa Batlló in Barcelona, Spain. The intervention by Japanese architect Kengo Kuma's studio is part of an extensive renovation of the house designed by the famous Catalan architect Antoni Gaudí in 1904, which now offers a new 2,000 sqm immersive exhibition inside the modernist masterpiece.
Just like Casa Batlló is a tribute to the light of the Mediterranean, the Kengo Kuma & associates project is an homage to Gaudí's use of light in this modernist building. In the Japanese architect's own words, "it travels from the rooftop's bright sky to the dark depths of the coal bunkers." His intervention speaks of it, but in an abstract way, free from the colors of the house, its materials, and its historical dimension.
The curtain was produced using 164,000 meters of Spanish firm Kriskadecor's aluminum chains which visually connects the eight floors and the coal bunkers. According to Kengo Kuma, "we have imagined this space dressed in aluminum link curtains, which with their meticulous materiality catch the light, as if they were fishing nets, and show it to us in all its forms: brightness, silhouettes, shadows… This way, by omitting the use of any other materials, and erasing the presence of this blind box and its staircase using these chains, we are able to speak of light and light only."
The lighter shades of aluminum are found at the beginning of the course, on the roof, and little by little they darken until they reach the black hues that dress the space of the old coal bunkers in the basement. With that gradation of light, which replicates the use of color in the courtyard, a story that accompanies us throughout the journey is spun without words. We start from the roof to end up in the cellars; from the heavens down to earth, from light to shadow… and all this explained only through light, as if it were the house's own grammar.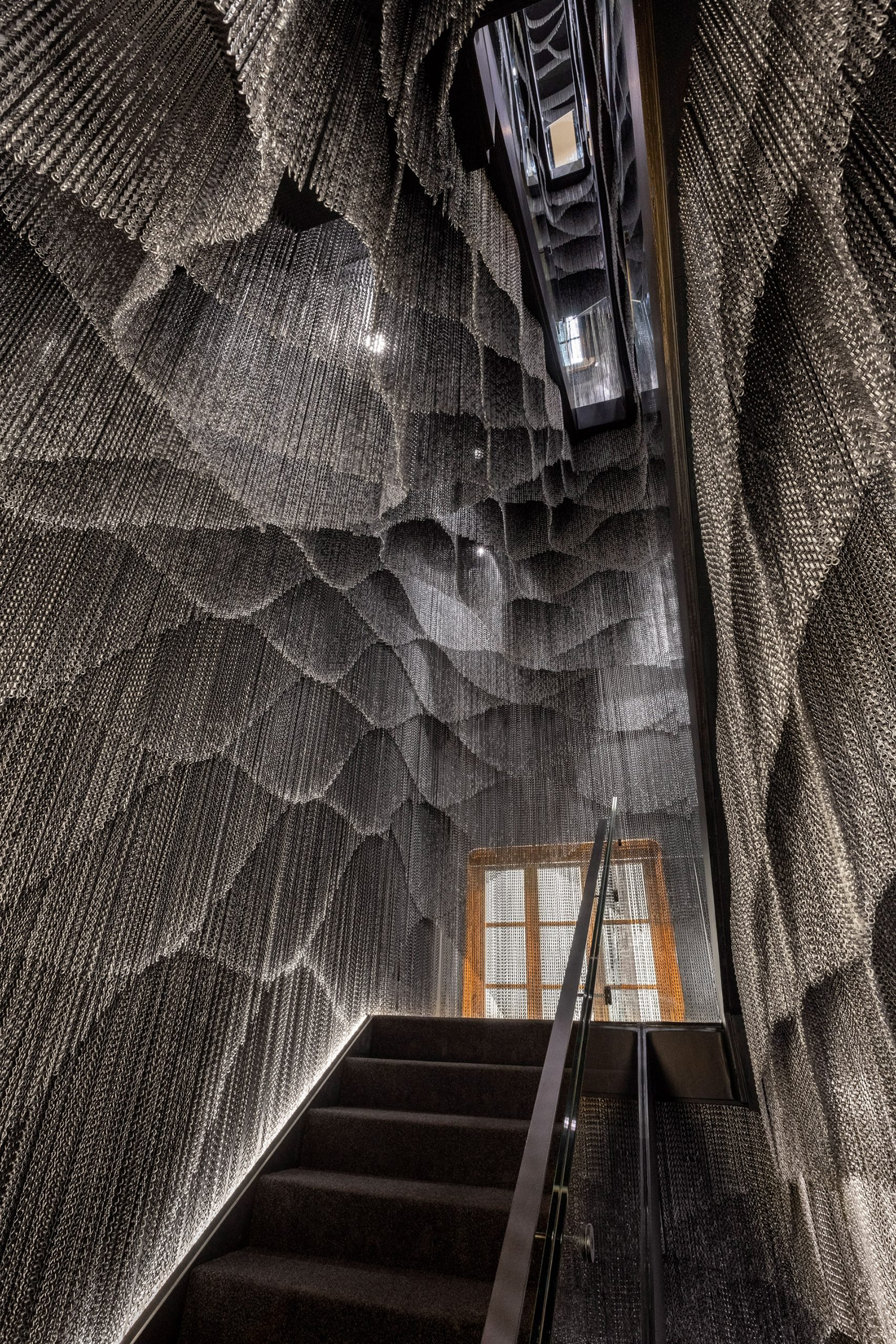 The project also posed the challenge of finding a sound neutralizing solution. To this end, the development and innovation department of the Montblanc company created innovative acoustic panels that cover the ceiling above the chains and successfully counteract the noise.