Nike Design advances the potential of the human body through a synergy of form, function and motion. Its obsession with Natural Motion persists and with each innovation the gap between product and body lessens.
For the occasion of Milan Design Week 2016, 10 progressive contemporary designers join Nike to explore Natural Motion through various mediums. Some works are conceptual — foreshadowing future technologies — and others practical. In many cases, materials unique to Nike, such as Flyknit, have been applied.
American Lindsey Adelman's designs are influenced by structural forms found in nature and the visual tension that results from mixing hand-blown glass with machine-made metal elements.
Adelman's light installation is inspired by the Natural Motion of plants. It comprises two light fixtures, each incorporating multiple phases of natural development into a single, cohesive form. The forms communicate through vibrational movement in an effort to capture the elusive mystery of nature within the constraints of industrial components.
Italians Enrica Cavarzan and Marco Zavagno are the founders of Zaven, a multidisciplinary creative studio that studies the interaction between communications, design and art through product, graphic and installation design, as well as creative direction.
Cavarzan and Zavagno's oversized floor lamps — referencing the organic —feature diffusers made with Nike Flyknit, forming an installation inspired by the beauty of an athlete in action. Reflection, light and shadow are employed to enhance human movement within the space.
Trained as a furniture maker and sculptor, Italian Martino Gamper pairs a hands-on approach to making with an interest in reusing or repurposing materials, both raw and refined.
Displayed within a specially constructed domestic environment, Gamper's collection of drums creates a commentary on the rhythm of Natural Motion by stretching technical Nike Flyknit textiles over laminated plywood forms and securing them with Nike laces.
British furniture designer Max Lamb cites an upbringing in the rugged landscape of Cornwall, England, as catalyst for his fascination with elemental materials, such as stone, metal and wood, which he shapes into pure, brutal forms that celebrate their respective raw qualities.
Lamb's surreal installation showcases heavy aluminum, granite and polystyrene blocks effortlessly levitating above an invisible film of compressed air, which enables them to move with the lightest touch and, in turn, challenge perceptions of weight and effort.
American architect Greg Lynn combines the realities of design and construction with modern digital technologies to push the boundaries of both mediums. A pioneer in new methods of manufacturing ergonomic forms using CNC (Computer Numerically Controlled) machinery, he is now using digital technology to dynamically change environments during their use.
Lynn's intelligent microclimate chair, constructed of a combination of rigid and flexible carbon fiber, uses integrated sensors to calculate the body temperature of the sitter then adjusts its integrated Peltier cooling modules and aluminum heat sinks accordingly. The surface is designed for maximum surface contact with the sitter, with a goal of selectively cooling and heating an athlete between periods of physical activity.
Dutch designer Bertjan Pot's work is propelled by impulsive curiosity — about materials, techniques, structures, patterns and colors — that leads him to push conventional manufacturing boundaries and experiment with textile and weaving techniques.
Pot's series of resting pods takes the wheel, a symbol of momentum and movement, as a structural starting point. By upholstering the inner tubes of a car, wheelbarrow, truck and tractor with ropes, Nike laces and belts, he initiates an unexpected but effective meeting of artisanal hand-weaving techniques and high-performance materials.
Swedish Clara von Zweigbergk merges a graphic design background with an interest in paper, color and handcraft to create unexpected products. American industrial designer Shane Schneck's Office for Design bridges the disciplines of design and technology in an effort to forge new solutions for contemporary life.
The duo's collection of seating studies the interplay of balance and posture, specifically how the human body interacts with static objects. Each stool requires its sitter's cognitive engagement to balance. A range of heights and postures amongst the stools accounts for a variety of social scenarios, providing an active alternative to normal sedentary seating. The combination of materials is similar to that of shoes: A cork base acts as the "sole," providing grip and weight, while a medium-density polyurethane top provides a softer area for the seat.
Sebastian Wrong is a British designer and creative director who specializes in contemporary manufacturing processes and materials, and possesses a passion for quality product fabrication — an interest evidenced in his work as the creative director of the London-based lighting manufacturer Wrong.London and his own progressive designs.
Wrong's ergonomic chair formation, intended as communal seating, wraps an intricate textile around a hollowed steel frame. Fashioned from Nike Flyknit, the detailed skin celebrates Umberto Boccioni's 1913 painting "Dynamism of a Soccer Player" and reflects Wrong's own contemplation of Italian Futurism and the movement's examination of modernity, speed and dynamism.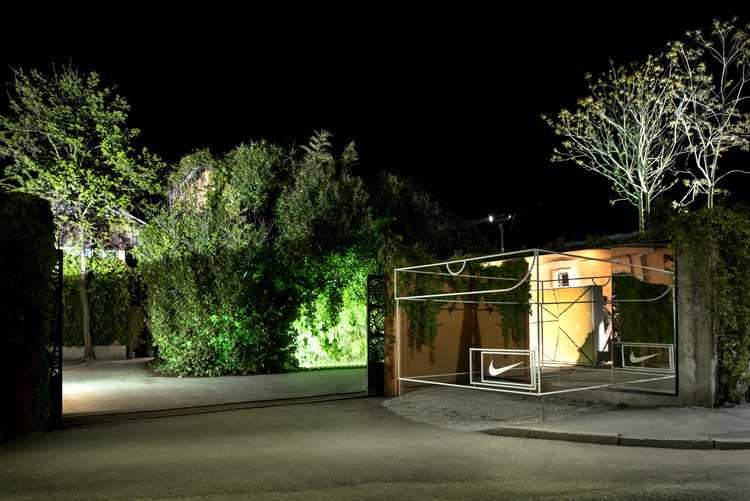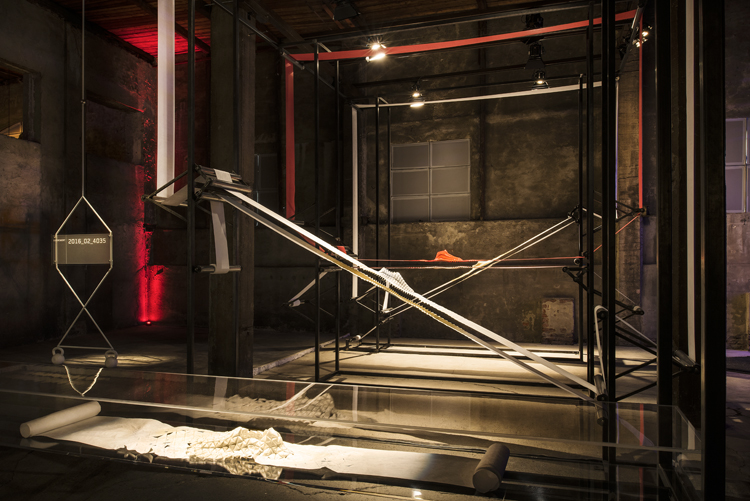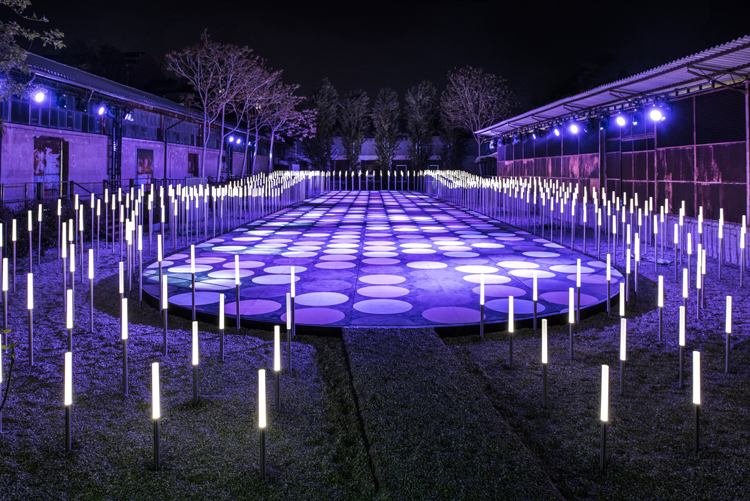 all images courtesy of Nike
Comments
comments