For this Performance Art series, French watch designer Alain Silberstein has taken MB&F's classic Legacy Machine N°1 and imbued it with his unique flair for the unconventional. His use of his signature three bright colours and shapes: red, blue, yellow; and triangle, rectangle and circle, catch the eye as they contrast against the more subdued movement plate below.
Engraved in French on the case band between the lugs of LM1 Silberstein is a quote: "Le vrai bonheur est d'avoir sa passion pour métier" – which translates roughly as, "Making a profession of your passion is true happiness". The phrase carries special meaning for both French watch designer Alain Silberstein, who left the safety of working in his trained profession as an interior designer to found his own watch brand, and MB&F founder Maximilian Büsser, who left the security of being a successful CEO of a well-known brand to found his own niche creative lab.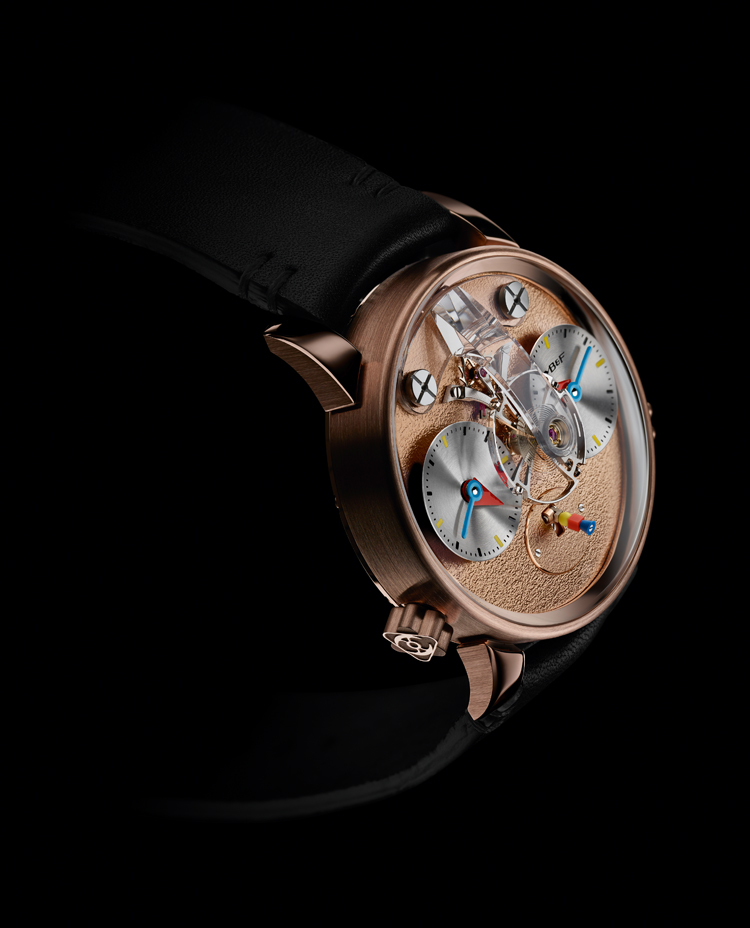 However, it is the concave curve of the subdials that highlights the artist's philosophical approach most. While the convex sapphire crystal dome and balance bridge offer protection from outside forces, the concave subdials attract and welcome the "eternal time" of the universe into the movement, where it is transformed and displayed as two completely independent time zones.
LM1 Silberstein is a limited edition of 3 x 12 pieces in red gold, titanium, or black PVD-treated titanium.
all images courtesy of MB&F
Comments
comments