Located in Air France's Business Class Lounge at Charles de Gaulle, this 160 sqm bar, dubbed 'Le Balcon', is the work of French designer Mathieu Lehanneur who literally draws in the exterior choreography of planes landing and taking off by lining the ceiling edges with gilt mirrors that are stippled like the keys of a giant piano to create what he describes as a space 'suspended between heaven and earth'. 
The space includes a central bar with a succession of outlying theatrical box seats where passengers can relax and enjoy gourmet delicacies prior to their flight. Each box is upholstered in blue velvet and embroidered with their respective numbers, and features a large sofa, a pedestal table and the latest connectivity services.
At Le Balcon, the show takes place outside as much as it does inside. The uninterrupted movement of planes on the runway mirrors the movements of the travelers, whose reflections enliven the interior's mirrored ceiling.  Mixing wood, marble, glass and light, Le Balcon is at once chic, immersive and digital.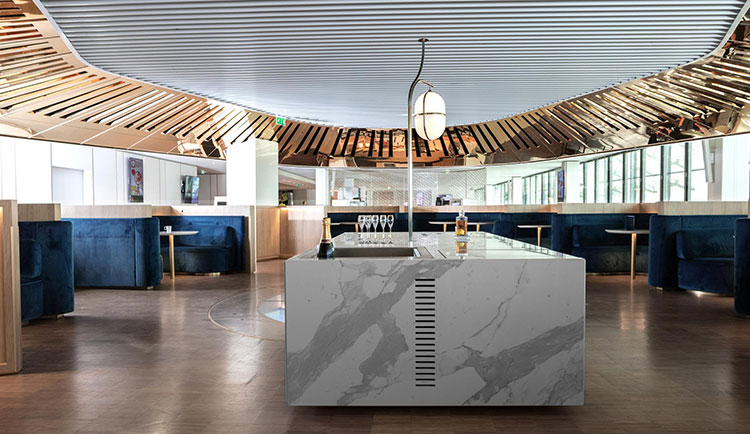 At the center, the designer has integrated a LED screen into the parquet floor depicting an image of the sky. From daybreak to dusk, this giant window of light imitates the variations of the day in real time. Whatever your departure time, this sky is like an introduction to your journey, before jetting across time zones.
With Le Balcon, Mathieu Lehanneur wishes to offer a real concentrate of France's savoir vivre, combining inventiveness, humour and elegance with a great attention to detail.
Comments
comments