Moscow-based firm Sundukovy Sisters studio has recently completed a restaurant with Greek classic motifs re-thought in a modern, bright interpretation in the context of Hong Kong. Located in a high-rise building with many galleries, bars, and restaurants, Estiatorio KEIA stands out from the rest: illuminated windows with unique light fixtures invite patrons from the street.
Inside, a white, beige and blue palette, associated with Greece and the marine theme, comes into fusion with handcrafted mosaic and selected artwork.
Mosaics on walls are made from Chinese marble and depict various sea dwellers – an interpretation of the stories and subjects from Ancient Greek frescos. One of them is adorned with the image of Goddess Aphrodite.
A glass partition wall with a print by contemporary Russian artist Igor Skaletsky complements traditional motifs in a modern interpretation. A contemporary megapolis Goddess reigns over the water kingdom, full of exquisite creatures, resembling drawing associations with the zingy, versatile city of Hong Kong.
Thought-through details in the interior work to support the general idea: custom-made rope lamps above big tables for large groups allude to the sea, lights, resembling jellyfish or other inhabitants of the sea.
"One of the client's main wishes was to draw patrons in from the street," explains the studio. "So, we placed unique light fixtures in the windows, visible at any time of day, warmly inviting guests to flow inside."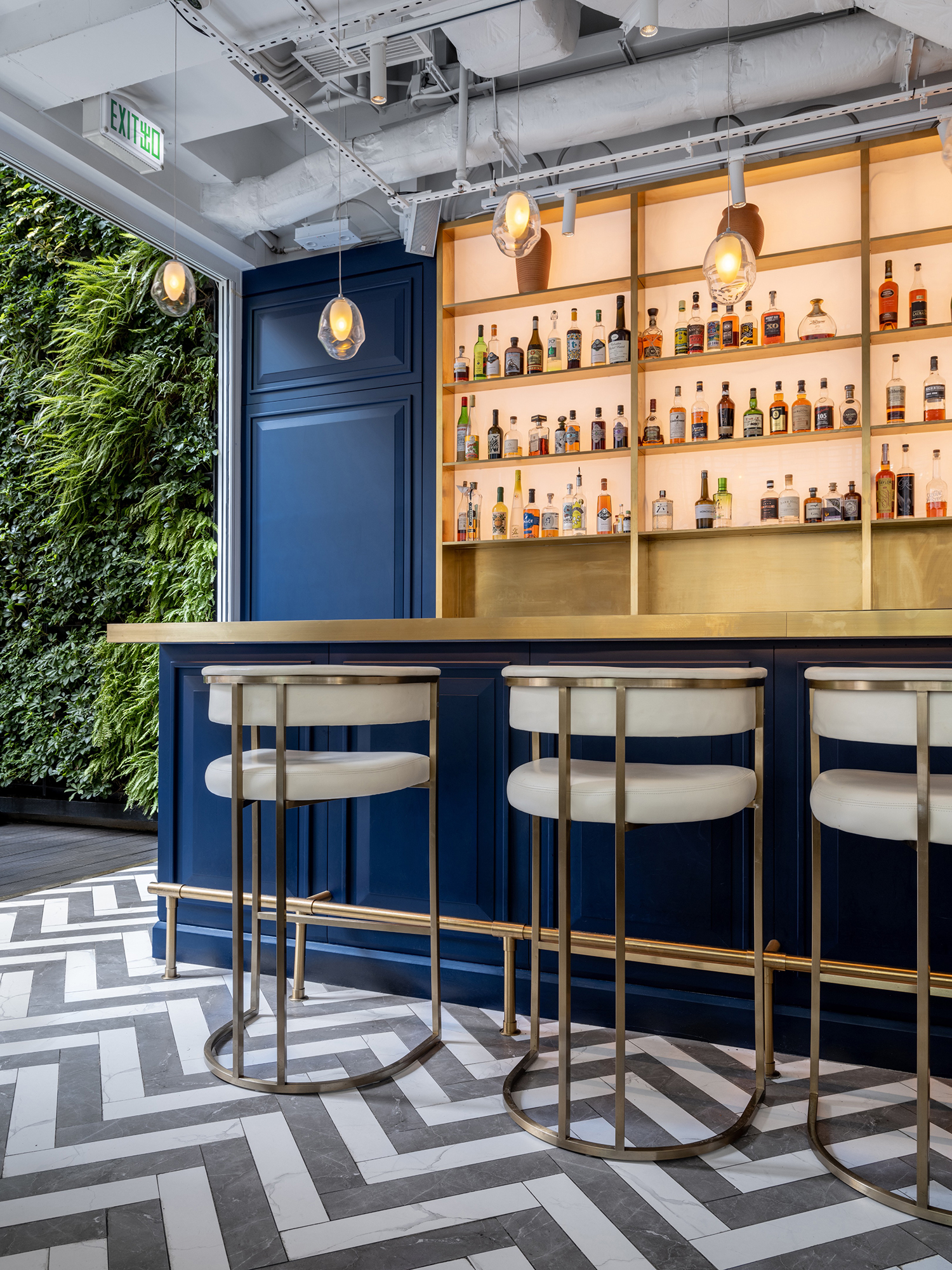 Once entering the space, the patron sees an open kitchen and a fish/seafood corner as a central element. Behind the white marble counter, a modern Greek drama unfolds, immersing guests immediately into a sea of smells.
In contrast, a blue bar zone gathers patrons around. Such visual division is functional and supplements the general design theme.
Classical elements are livened up by modern concrete panels and brass, as well as by the contrasting floor of the kitchen and bar. Natural materials such as rope, marble, brass, wood and mosaic fill the space and are easily replaceable by local suppliers. Mosaics from Chinese marble appear in the restaurant, evoking continuously associations with Greek frescos. Light fixtures resemble sea creatures in a sense.
The key idea was to re-think Greek frescos in a modern interior, blending epochs and locale. Modern goddesses reside in the interior, transferring guests to ancient Greece with an offbeat Hong Kong touch.
Comments
comments