Off-White's latest AMO-designed flagship store has opened in Paris, introducing a design in which the high-end and the casual meet. Located two blocks away from Place Vendôme, the Off-White Paris store extends over three floors of a 19th-century corner building. The outpost is the second Off-White store to be designed by AMO – the creative think tank of the OMA – following the Miami flagship last year.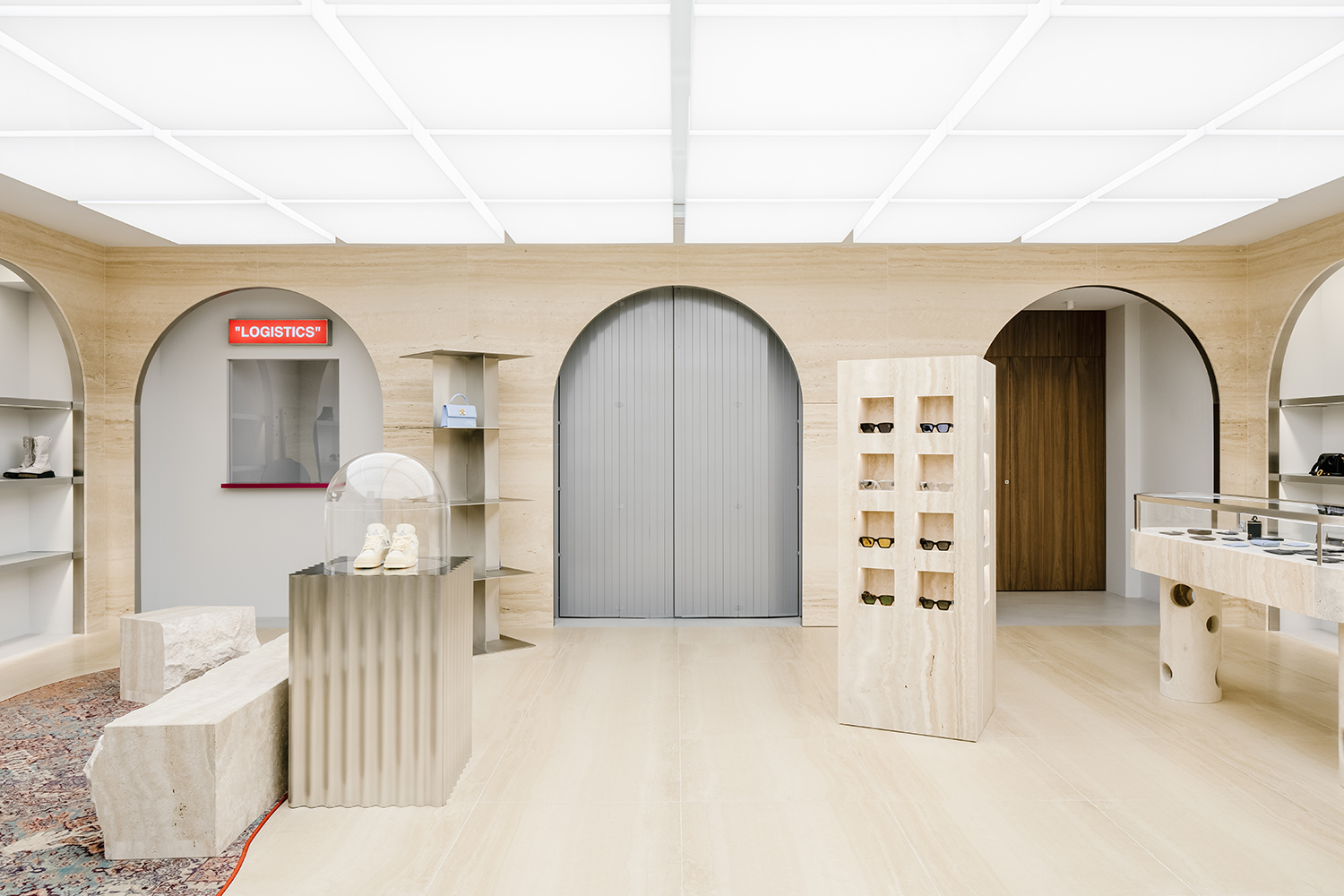 Two blocks away from Place Vendôme, Off-White Paris extends over three floors in a 19th-century corner building, gradually revealing to the visitor a repertoire of contrasting ambiences.
The design, led by Ellen van Loon, together with Samir Bantal and Giulio Margheri, explores new ways in which architecture facilitates the interaction between fashion collections and the public. By reinterpreting iconic architectural elements such as the Parisian courtyard and flea market, the city becomes present inside the store.
AMO described the space, which features both neutral and colourful spaces and contrasting combinations of textures and colours, as a space where "Parisian elegance" meets "industrial rawness".
"Where does streetwear end and high fashion begin? Over twenty years ago, Sarah Andelman's Colette was the predecessor of modern experiential retail, one of the first concept stores where streetstyle met luxury," explained said Ellen van Loon and Samir Bantal. "Fast forward to 2021, a couple of blocks away from where Colette sat, the new Off-White store in Paris represents the brand's multifaceted identity as a cultural channel broadcasting style, media and fashion, humbly saluting Colette and drawing from its irreplaceable legacy."
"Working with AMO is a synergistic process," says Virgil Abloh, Founder and Creative Director Off-White. "The way we ideate is similar – nothing is off limits – and the outcome at Off-White Paris is greater than I could have ever imagined."
The store continues the collaboration between AMO and Virgil Abloh, which started in 2018 with the design of the fashion designer's first solo exhibition Figures of Speech. Off-White Paris is the second store designed for the brand after the Miami flagship.
Comments
comments