It is believed that wedding fashion is a very conservative lady. White, floor-length, puffy wedding dresses, empire style or tight-fitting "mermaid" – that's probably all that designers offer brides from year to year. Undoubtedly, all this is fabulously beautiful, but – more or less – traditional. The wedding dresses of 2021 look completely different. You may also visit Avery Austin for tips.
Layered
Ruffles and flounces, layered and cascading skirts, reminiscent of the royal ballroom looks, found a new life in the current wedding season. Dresses with puffed skirts of dozens of layers of delicate tulle and lace adorn the delicate figures of their happy owners. Zuhair Murad, Oscar de la Renta, Milla Nova, and Monique Lhuillier presented on the catwalk in New York were more like works of art than wedding dresses.
Sleeves
Inspiration of the Renaissance period pushed modern designers to create truly dramatic wedding looks! Puffed false sleeves, boob sleeves, lanterns, sleeves-flounces are the key elements of the fashion collections of the season, which formed the "sharp" trend. Some couturiers add open shoulders to voluminous sleeves, recreating the mood of blooming femininity of Renaissance paintings.
Shine
The 2020-2021 wedding runway shines like never before. From the gentle shimmer of sequins to the bright shine in the disco style – designers offer a huge choice of models for brides, who want to shine on their main day! The variety of fabrics and textures strikes the imagination: gold and silver glitter, sequins, beads, and crystal embroidery, tulle with sequins … If shine suits you, do not miss the chance to wear a magnificent sparkling outfit for your wedding.
Luxurious minimalism
Perfect fit, pure colors, and sleek lines are the foundation of classic wedding dresses in the vein of Meghan Markle and Carolyn Bessette-Kennedy.
Minimalist bridal looks will never go out of trend. It is also the best style for bridesmaid dresses that are easier to shop for. This wedding design will still look stylish in photos even 50 years from now.
Minimalism does not imply simplicity. On the contrary, creating outfits of this style, designers emphasize the form, use a complex geometry of cutting, expensive fabrics, and original details, for example, necklines, decorative buttons, and bows. A well-chosen Ling's wedding bouquet will be a great addition to the minimalist style of the dress.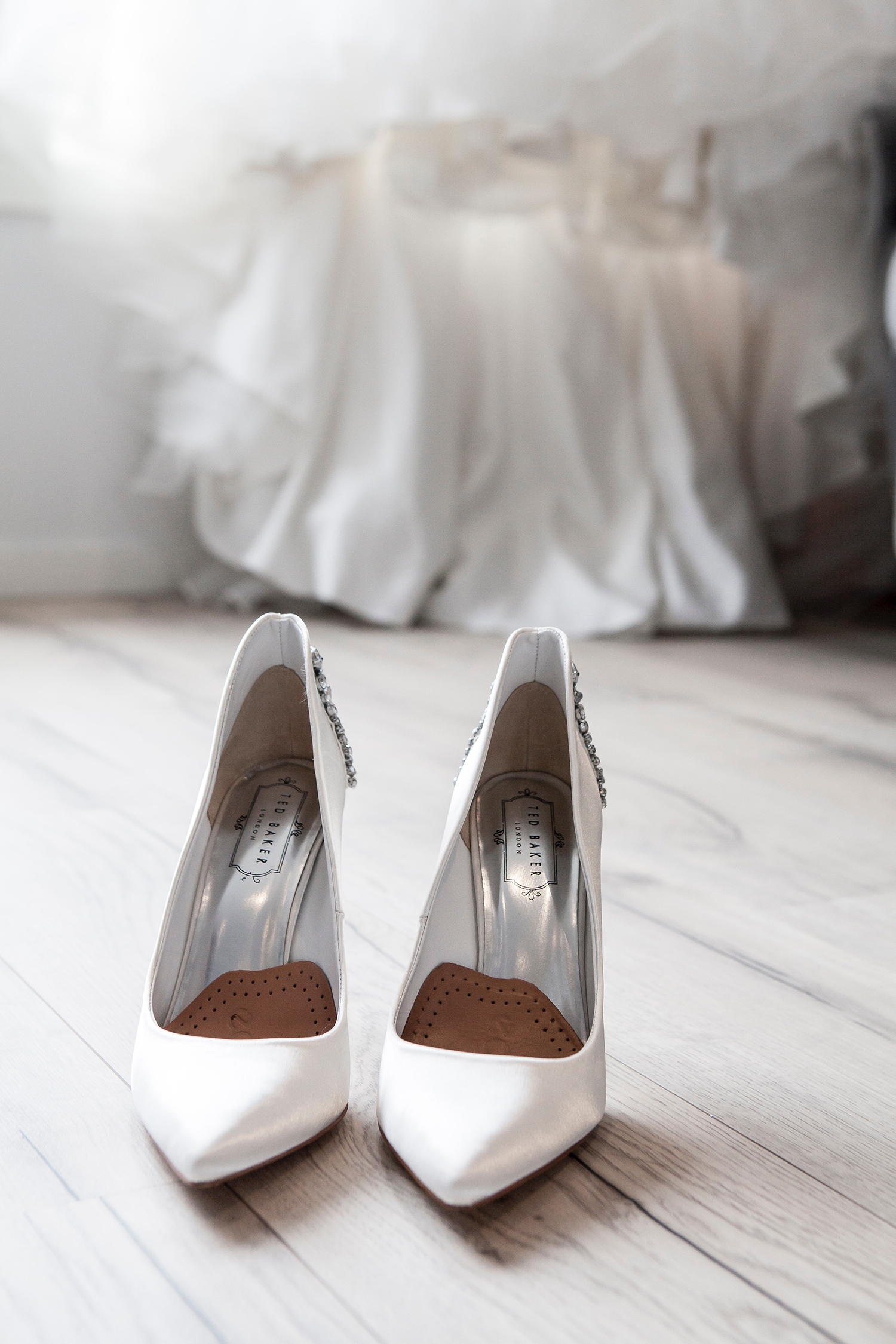 Lingerie corset
Tempting "lingerie" corsets with cups with bonnets are a trend! For brides who are not ready for such a daring image, designers offer a compromise: lingerie corsets are covered with delicate drapery of tulle or a cape with pearl embroidery. The bodice is decorated with voluminous embroidery, velvet, decorative seams reminiscent of corsages of past ages. Here you can find a collection of satin corsets by Danielle Guizio that might be right for you.
Cape
Capes are unconditional favorites of the current fashion season. In the wedding context, a cape is a flying cape on the shoulders, reminiscent of the royal mantle. This stylish element of the image can be a great alternative to the veil or the train. One famous designer showed snow-white laconic capes with a masculine shoulder line, Berta Bridal showed translucent models decorated with feathers and pearls, and Zuhair Murad, meanwhile, combined capes and wedding dresses into one whole.
Deep necklines and belts
Deep necklines are perhaps the most enduring fashion trend of recent seasons. Sensual, feminine, and sometimes provocative looks fill the collections of Galia Lahav, Milla Nova, Inbal Dror, and Berta. A deep neckline emphasizes the slimness and fragility of the female figure.
Do you want to highlight the thin waist? Nothing better than to accentuate it with a wide belt. This trend was picked up by almost all modern wedding designers, tightening the brides' waists with belts with buckles. This seemingly "rough" accessory looks especially luxurious and stylish in combination with delicate lace skirts!
Feathers and pearls
Feathers appeared on the wedding catwalks a couple of years ago, but in the season 2020-2021 there will definitely be no shortage of them. Wedding houses Zuhair Murad, Amsale, Lela Rose, Vera Wang and Berta added to their collections with airy feather masterpieces. Delicate décor in the form of delicate feathers and pearls of different diameters adorned both elegant ceremonial dresses and daring mini-dresses, suitable for a wedding afterparty.
Lace
In 2020 many couturiers actively use fine lace, embroidery, floral applications in their collections. Lace is a traditional element of the wedding closet, whether it's a classic model or a tight-fitting ultra-fashionable dress. Undoubtedly, the design of the lace fabric changes with the fashion. Along with the usual floral pattern, fabrics with abstract geometric patterns, floral ornaments, macramé, and "knitted" lace boho-style are used.
Powdery tones
One of the main features of wedding fashion in recent years is the abandonment of white in favor of shades of ivory. And in 2020-2021, designers did their best to change the minds of even the most stubborn skeptics, who recognize only milky tones, and presented a large number of models in shades of pink powder and cappuccino.
As a woman, the dress takes the cake (really). You want it to be the most perfect one while not being a headache as much as possible. Going out with the girls to try out dress while drinking champagne and eating cake might be part of the fun but, what if you want to do it at home? Good thing Avery Austin offers some extent help especially during these trying times.
Comments
comments