Aiming to be the most sustainable vehicle on the market, Lightyear, a pioneer in clean mobility, introduced Lightyear One, the first long-range solar car. Its sleek, elongated shape aims to 'get the most out of every ray of sunshine', with the hood and roof comprising five square meters of integrated solar cells covered in safety glass. By charging from the sun, the car offers an exceptional battery range of 725 km (450 miles).
"This moment represents a new era of driving," said Lex Hoefsloot, CEO and co-founder of Lightyear. "Two years of dreaming, thinking and working hard have led to this milestone, which is a giant leap towards achieving our mission of making clean mobility available to everyone."
Lightyear was founded in 2016 by alumni of Solar Team Eindhoven, which won the Bridgestone World Solar Challenge in 2013, 2015 and 2017. Since the launch, Lightyear has received several awards, grants and support from key investors. "This allowed us to develop a working prototype for the first long-range solar car in just two years. We have already sold over a hundred vehicles. With Lightyear One, we want to show that our technology enabled us to build one of the most sustainable cars on the market that also offers great convenience."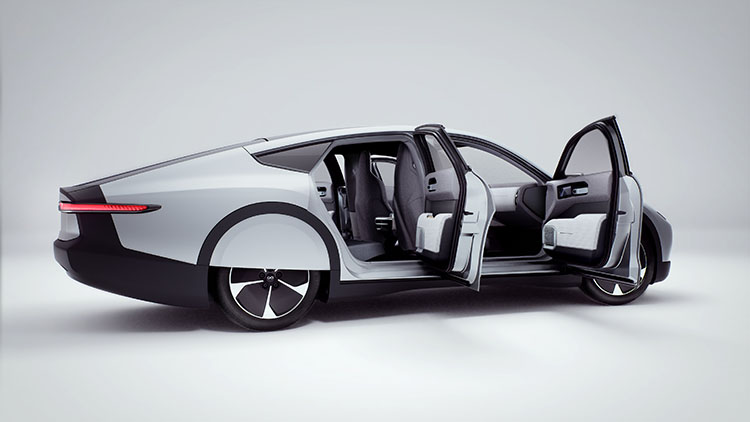 Lightyear One has been engineered coming from a radically different perspective. Hoefsloot: "We all have a performance background and with that we focus relentlessly on to optimize efficiency and safety". Lightyear started from scratch, following not convention but only the laws of physics, to purposefully design a car that "gets the most out of every ray of sunshine". Hoefsloot continued, "The main goal of the car is to fill in where electric cars fall short. Research has shown that range and the lack of charging options are still the top concerns that people have when considering electric cars."
Lightyear One is constructed in an aerodynamic design made from high-technology materials to achieve a low weight and ulra-efficiency. This helps deliver its long battery range of 725 km. Although 'One' is not reliant on a charging infrastructure as it is energized by solar power, the car can be charged at stations or regular outlets if required or encase of emergencies.
Lightyear will be ramping up production of the Lightyear One in 2021. The first 100 cars have already been reserved. Via the Lightyear website, buyers can now reserve one of the 500 Lightyear Ones for a reservation fee of €119,000 (∼ $135.177 USD), with expected delivery in 2021.