New York-based artist Mark Reigelman has conceived NidoSilla (NestChair), a site specific installation as part of the DECODE design festival program in Monterrey, Mexico. NidoSilla was fabricated and installed outside of a former school, Adolfo Prieto Escuela, within Fundidora Park, a 350 acre urban sustainable public park. Until the late 80's the site was owned and operated by Monterrey Steel as a fully functioning Steel foundry. The park preserved many of the industrial buildings and objects from the foundry making it a famous Archeological Industrial Site in Mexico. The Adolfo Prieto Escuela, previously used by the children of foundry workers, is now operated by CONARTE as a creative hub in Monterrey and currently the backdrop for NidoSilla.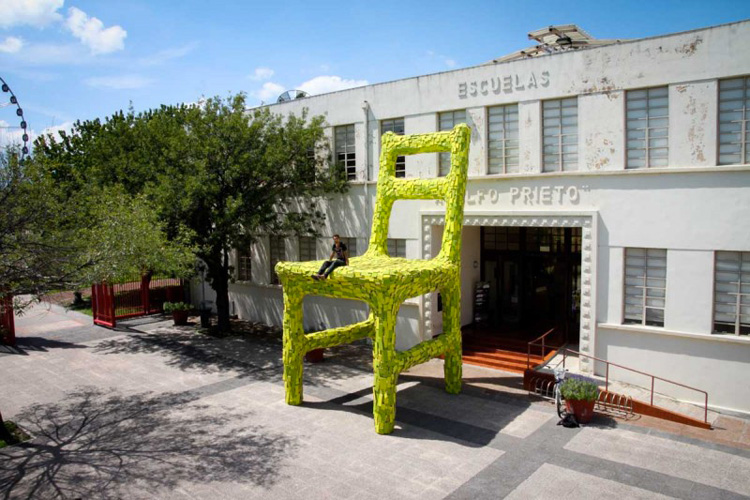 Reigelman was particularly drawn to the juxtaposition within Fundidora Park. At every turn enormous steel foundry artifacts collide with the trees, lakes and rivers of the public park. His approach is based on this premise and he wanted to capture this juxtaposition within his installation. To do this, Reigelman created two identities, one for the DECODE event and one for the school where the work would be installed. The site, a former school, symbolizes growth, community and knowledge and was assigned a nest as its visual representative. The DECODE event, a festival celebrating design as a creative discipline, was assigned a chair as its representative. These two identities were forced to collide which created NidoSilla.
DECODE is a three-day event organized by the founder of Designaholic, Jorge Diego Etienne, and Toc Toc founder Alexis Del Toro. The goal of the event is to celebrate and promote contemporary industrial design, creativity and innovation through workshops, lectures, exhibitions, screenings and installations.
all images courtesy of MARK REIGELMAN