Paweł Althamer is one of the most renowned Polish contemporary artists. He is internationally acclaimed for his highly conceptual works: sculptures, performances, installations and video art. Ever growing number of projects and exhibitions have forced him to commissioned Basel architect Piotr Brzoza and Polish studio Projekt Praga to expand his family atelier in Warsaw (shared with his father and brother). The initial idea of the client was to create a place, where the two generations of the family can work and spend time together, though maintaining the independency of everyones own personality and work-style.
The development covers actually the total area of the plot and group it in various indoor and outdoor spaces, serving the different users. Apart of the clearly assigned areas, there is a central common space, giving to everybody the possibility of working outside and meeting, depending on demand and weather.
The artist uses to work together with several assistants or even more to invite visitors for common artistic activities, for example public officials, politicians, school-children or disabled persons. For this working method it turned out to be crucial to develop a clear but not dividing gradation of privacy within the complex: starting with the common courtyard, followed by the atelier ground floor used for any kind of sculptural group- work, than the mezzanine as a small meeting and office area, and finally a small, fully private und concealed room, to be entered through a small opening in the mezzanine-wall.
The last room is placed within a geometrically deformed, golden object protruding from the main lump of the building, just above the entrance to the central courtyard. The golden capsule completes a kind of spatial loop of the complex – it serves as a place of seclusion and meditation for the artist – being at the same time the most highlighted volume and defining the most public area. Moreover, it may be regarded as an architectural interpretation of Althamer's art – particularly his works inspired by aerospace, like famous performances from "Common Task" series.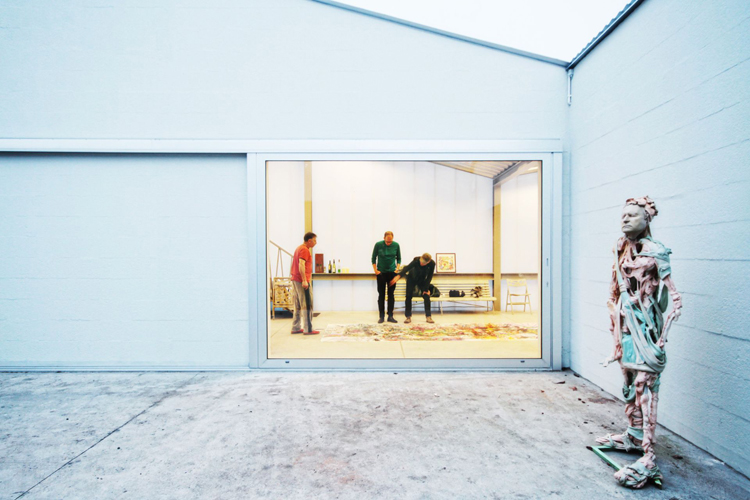 The new atelier is made out of raw, basic materials. The building-structure can be described as a hybrid of masonry and steel-framework – both elements have been used by the optimum of their characteristics and their stability can be achieved only by the combination of them. The southern facade was constructed out of polycarbonate panels – it provides for the interior of the studio an intense, shadowless light – an aspect which is known and appreciated in the traditional sculptor-ateliers of the history.
images by Jakub Certowicz and Karolina Tunajek