Since 2006 street artist Slinkachu photographs his miniature street installations of 1″-high figures on the streets of cities around the world. In an upcoming exhibition at the Andipa Gallery titled 'Minaturesque', the artist will show 17 images of his latest tiny masterpieces on paper and aluminum as well as new sculptural pieces. 
Shot in London during different seasons over the past year, Slinkachu's new body of work draws upon our desire to seek out and recreate the natural world amongst the urban metropolis. His miniature people, photographed on the streets of London and then left in situ – or "abandoned" – by the artist, explore the hidden enclaves of the wild within the city of London. Slinkachu captures idyllic glades and green pastures, in reality weeds and moss that appear through cracks in the concrete, and comment on our modern society's detachment from nature.
Using tropes from art and popular culture, Slinkachu's new works employ irony, humour and a healthy dose of reality; despite their fantastical situations, the miniature figures we observe are not so dissimilar to ourselves, living in the shadows between the real and artificial.
In The Glade a tiny lady sits on a matchstick swing hung from an over-arching weed, a scene reminiscent of The Swing by Jean-Honoré Fragonard and almost, but not quite, picturesque. In Paradise, Slinkachu has one miniature figure exploring a tropical waterfall worthy of an office motivational poster, if not for the discarded Sprite bottle that causes this 'un-natural wonder'. In The Jetty, children frolic in a lake of melting ice-lolly, bringing to mind nostalgia for those long summer days of our youth – or perhaps a scene from a film we once saw, showing what our youth should have been.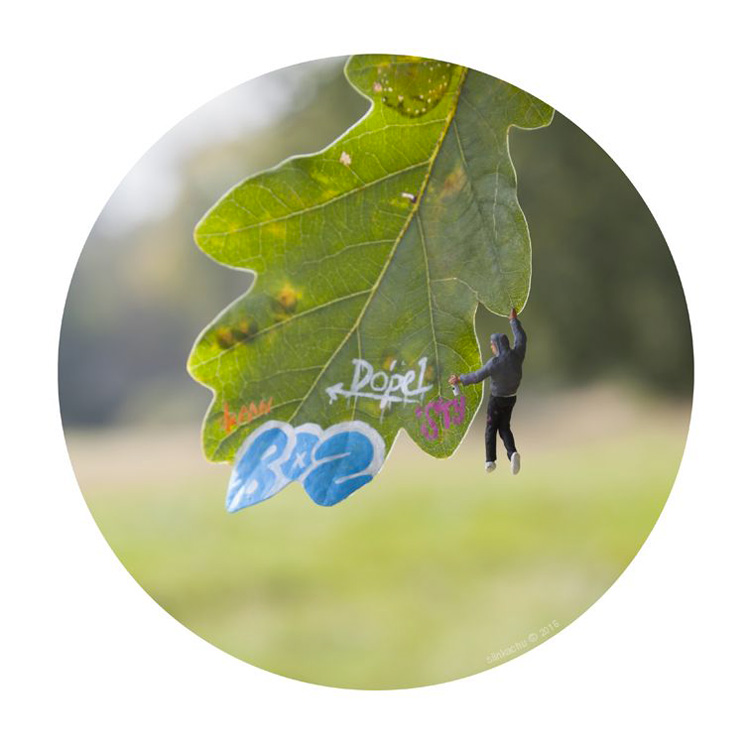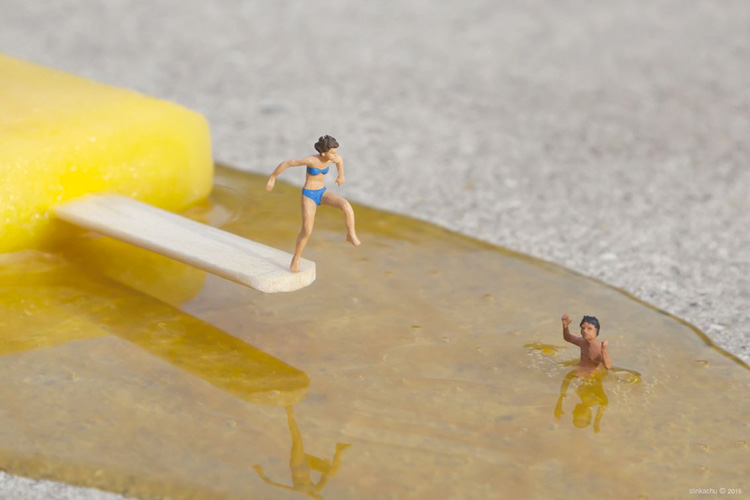 all images © SLINKACHU | Slinkachu: Miniaturesque – Andipa Gallery, London | March 13th – April 11, 2015