Starbucks has officially opened the doors of its first Reserve Roastery and Tasting Room in the Capitol Hill neighborhood of Seattle, nine blocks away from its original store in Pike Place Market. This interactive Roastery and Tasting Room is dedicated to roasting, coffee education and increasing availability of the company's small-lot Reserve coffees; literally every Reserve coffee bean sold to customers will be roasted in this facility. The Roastery is 15,000 square feet with 6,654 square feet devoted to the Starbucks Café and Tasting Room designed to have 360 degree views from any vantage point within the space.
The building dates back to 1920, which was originally part of the historic "Auto Row" of Seattle. Starbucks restored it back to its original façade working to reclaim many of the original building's materials, including wood in the decorative ceiling and original Terrazzo and concrete flooring – 95% of the materials and finished pieces used for the Roastery are made in America.
The Roastery integrates digital innovation into the experience including a "Clacker" board with mechanical flaps displaying what's roasting and by whom; a Coffee Passion Projection Wall made of smart glass displaying images of coffee at origin on the company's own farm in Costa Rica; and in the coming year, will debut iBeacon technology that allows customers to access information about freshly brewed coffee via their smart phone.
"We have designed a space that will heighten all the senses. This is a real-life Willy Wonka experience with coffee as the heart and soul, where customers will see coffee being moved through the roasting process right before their eyes," said Liz Muller, vice president of Concept Design for Starbucks. "We have opened up the world of sourcing, roasting and brewing so that our customers at any one point are only feet away from the theater and artistry in a sophisticated yet relaxed environment. Each visit will bring new discoveries while setting the standard for what customers can expect for the future of retail."
Starsbucks is planning to expand this specialized store experience devoted to highlighting these rare, limited availability coffees in at least 100 locations in the next five years. The first stores will open in Chicago, Los Angeles, New York, San Francisco and Washington D.C. An additional Roastery is planned for Asia in 2016.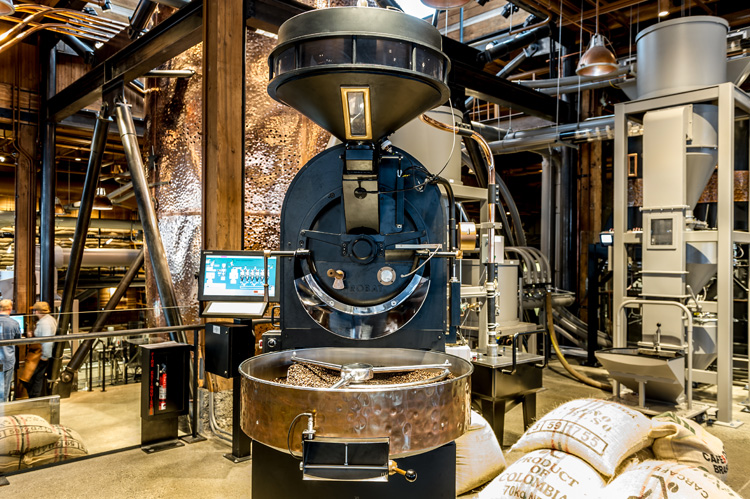 all images courtesy of STARBUCKS