OTM Technologies has launched on Kickstarter its new Phree write-virtually-anywhere mobile input device. Just don't call Phree a digital pen. Using patented 3D laser technology, Phree creates its own category of mobile input devices. Phree lets users write in any language, draw, annotate, and express themselves in countless other ways — on virtually any surface.
Phree will easily connect to practically any device – phone, tablet, laptop, TV – anything with a Bluetooth connection. Phree is compatible with software and apps like Office, OneNote, EverNote, Acrobat, Google Handwriting Keyboard, Viber and more. Motion tracking accuracy and 3D capability also offer gaming and VR applications for the device.
With a successful Kickstarter campaign, OTM plans to ship Phree by March 2016.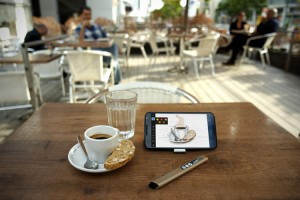 all images and video courtesy of OTM Technologies
Comments
comments