Practical enough for everyday use, the two-seat, mid-engined sportscar McLaren 570GT is the most refined and road-biased McLaren yet, designed with a focus on day-to-day usability and long distance comfort. The clean lines of the revised glass hive the '570GT' a refined shape and mark out the second of three body styles which complete the 'Sport Series.' A standard fixed glass panoramic roof provides a bright, open cabin running through to the large rear glass hatch.
The McLaren 570GT is the most practical model ever launched by McLaren Automotive, targeted towards longer journeys and weekends away. As with all  'Sport Series' models, ingress and egress are optimised through a lower and narrower sill, while the signature dihedral doors open with a more upward arc.
Within the spacious and ergonomically-optimised cabin, a pair of eight-way electrically adjustable sports seats are upholstered in leather as standard. The control interfaces for the air conditioning, telephony, navigation and audio systems are managed through the centrally-mounted touchscreen, while vehicle setup is configurable via the TFT LCD digital instrument cluster.
The front luggage area remains unchanged from its other models, but mclaren have further added an extra 220 liters of space behind the sears on the leather-lined touring deck. The glass hatch is framed by carbon fibre to provide significant torsion rigidity.
The McLaren 570GT is fitted with the McLaren-developed 3.8 liter twin turbo V8 engine which debuted in the McLaren 570S Coupé.The 562 bhp is delivered to the rear wheels via a seven speed transmission with adjustment through normal, sport and track presets. Weighing 1,350 kilograms the car can accelerate from zero to 124-mph in 3.4 seconds and continue to a top speed of 204 mph. The McLaren '570GT' will hit the streets in late 2016.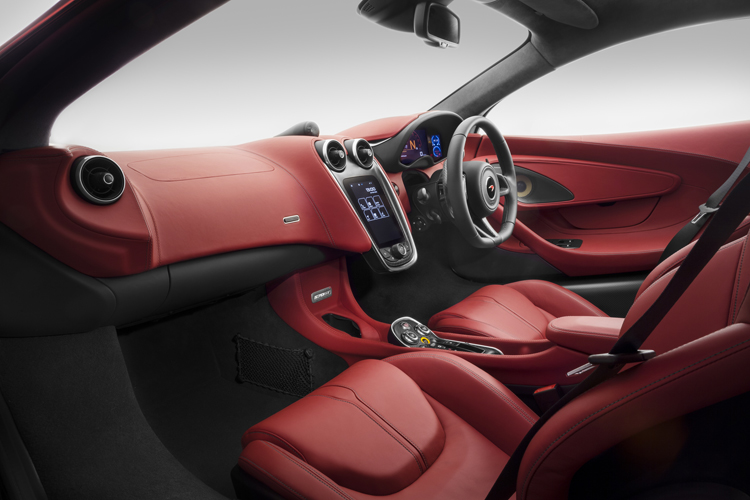 all images courtesy of McLaren
Comments
comments